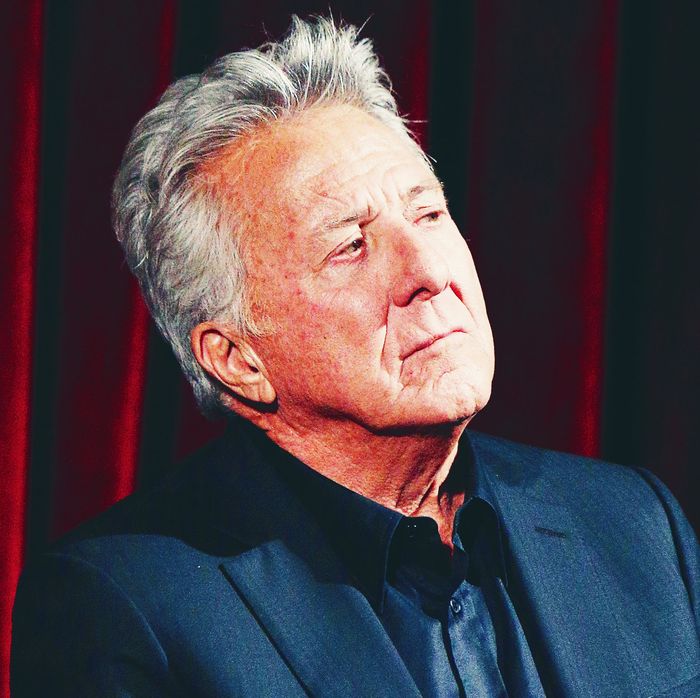 Dustin Hoffman.
Photo: Lars Niki/Getty Images for The Academy of Motion Picture Arts & Sciences
Two women have accused Dustin Hoffman of sexual assault, while another has accused him of exposing himself to her when she was a minor, according to a report from Variety. Cori Thomas was 16 years old and a high-school classmate of Hoffman's daughter Karina when she met him in 1980. One night, she says she was left in a hotel with the actor waiting for her parents to pick her up after Karina went home. Hoffman went into the shower and then emerged, according to Thomas, with a towel wrapped around him, which he dropped to reveal himself naked. She alleges he then put on a robe and asked her to massage his feet. "I didn't know that I could say no, so I did it," she said. "And he kept telling me, 'I'm naked. Do you want to see?'"
Melissa Kester, who met Hoffman while her boyfriend was working on the music for Ishtar, alleges that Hoffman grabbed her while in the recording booth and then stuck his fingers inside of her while her boyfriend was watching. "He kind of laughed," she said. "Then I just ran out of there, and I sat in the bathroom crying. I thought, 'Oh my God.' I felt like I'd been raped. There was no warning. I didn't know he would do that."
A third woman, who asked to remain anonymous, claims that Hoffman also assaulted her while working on Ishtar. She was 22 years old and had a nonspeaking role in the film when Hoffman allegedly took an interest in her, eventually taking her home from the wrap party in a station wagon with several other people. While in the car, he allegedly stuck his finger inside her, and she said that she froze and couldn't figure out how to stop his unwanted contact. "What are they going to think of me, that I'm a whore, if I say something?" she said. "What would I say? He's Dustin Hoffman." After dropping her off, Hoffman allegedly instructed the woman to come to his residence, and describing herself as in "a kind of fugue state" triggered by his actions, she took a cab there where he allegedly performed oral sex on her and they had intercourse. She said the encounter in the station wagon was nonconsensual and said of their later intercourse, "I don't know."
Hoffman has also recently been accused of sexual harassment by actress Kathryn Rossetter, who was in Death of a Salesman with him; Anna Graham Hunter, a PA on Death of a Salesman, and Wendy Riss Gatsiounis, an executive producer of Genius.