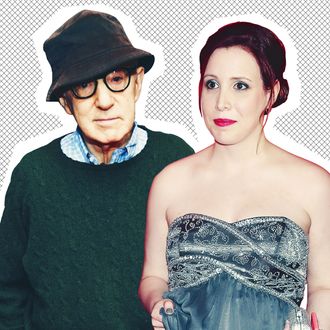 Woody Allen, Dylan Farrow.
Photo: Getty Images
In 2014, Dylan Farrow wrote an op-ed for the New York Times detailing her long-maintained accusation that her adoptive father Woody Allen molested her when she was a child. On Thursday, she published another column in the Los Angeles Times, asking why, in the wake of the Harvey Weinstein scandal, Hollywood still refuses to confront her painful story. "The revolution," she writes, "has been selective."
In the column, Farrow repeats her accusations against Allen and asks why actresses and actors continue to work with him and studios like Amazon continue to fund his work. "I have long maintained that when I was 7 years old, Woody Allen led me into an attic, away from the babysitters who had been instructed never to leave me alone with him. He then sexually assaulted me," she writes. "I told the truth to the authorities then, and I have been telling it, unaltered, for more than 20 years. Why is it that Harvey Weinstein and other accused celebrities have been cast out by Hollywood, while Allen recently secured a multimillion-dollar distribution deal with Amazon, greenlit by former Amazon Studios executive Roy Price before he was suspended over sexual misconduct allegations?"
Farrow directly addresses actresses like Kate Winslet, Greta Gerwig, and Blake Lively, who have spoken out against Weinstein but equivocated when asked about working with Allen. "The truth is hard to deny but easy to ignore," she writes. "It breaks my heart when women and men I admire work with Allen, then refuse to answer questions about it. It meant the world to me when Ellen Page said she regretted working with Allen, and when actresses Jessica Chastain and Susan Sarandon told the world why they never would."
Allen has long denied Farrow's accusations, and he declined to comment to the Los Angeles Times about her column. You can read Farrow's story in full here. For further reading, here is a Vanity Fair piece from 2014 which details the facts of the case.