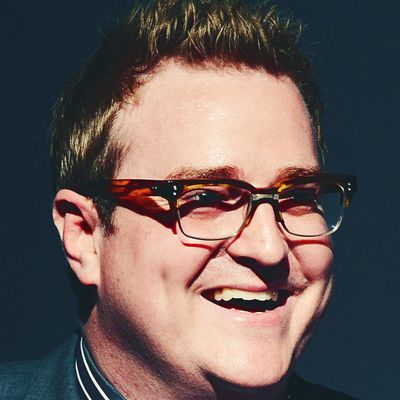 Dylan Howard.
Photo: Michael Kovac/WireImage
Dylan Howard, the chief content officer of American Media Inc., the publisher that owns magazines like the National Enquirer and Us Weekly, has been accused of sexual misconduct by former employees, according to a new report by the Associated Press.
Howard, whose chosen nickname is reportedly Dildo, has been accused of discussing his and employee's sex lives at the office, and forcing female employees to watch pornographic material.
"The behavior that Dylan displayed and the way he was and the way the company dealt with it — I just think that it has to be made public because it's completely unacceptable," said Maxine "Max" Page, a former senior editor at RadarOnline who complained to American Media's human resources department about Howard's behavior on behalf of two female employees. One of the two, a reporter, had complained to Page after Howard told everyone in the newsroom he wanted to create a Facebook account on behalf of her vagina (Howard denies ever doing this). According to Page and six other employees, he also:
[…] commented on her sex life and forced her and other female employees to either watch or listen to graphic recordings of sex involving celebrities despite there being no professional rationale for doing so, they said.
Howard also reportedly falsely claimed during a meeting that a senior editor had had sex with a source for information, and encouraged her to "do what you need" to get a story.
In a call with the AP, Howard called the claims against him "baseless" and an American Media spokesperson described the former employees making the accusations as "disgruntled."
The Australian-born editor left American Media in 2012, after an outside consultant was hired to investigate claims against him. The inquiry was launched a week after "Dildo's Dirty 30," a three-day, all-expenses-paid trip to Vegas for Howard's 30th birthday, to which he invited dozens of employees.
American Media rehired Howard a year later with a promotion that moved him from Los Angeles to New York. According to the AP, all of the alleged incidents took place while Howard was working in Los Angeles, and they are not aware of any complaints since he moved to New York.
Read the full story here.