In today's milieu of mass mindfulness and conscious consumerism, many of us care deeply about the story and mission behind the things we buy. In fact, 43 percent of global respondents to a 2015 survey cited a company's commitment to social value as an important purchase driver. EDUN, a New York-based designer ready-to-wear and accessories brand founded in 2005, was ahead of the curve in addressing this desire. Now, with the release of Karibu, its first short film project, EDUN is showing consumers how and why it works with artisans and factories in Kenya, where it began its development 12 years ago.
The documentary, the title of which means "welcome" in Swahili, showcases the commitment of the EDUN design collective — an internal group who works with African partners to develop each season's collection — to building long-term, sustainable growth opportunities with African artisans, factories, and manufacturers. To celebrate Karibu, which you can watch below, we spoke with EDUN cofounder Ali Hewson, Karibu director Adriaan Louw, and the EDUN Collective to learn more about how the brand continues to differentiate, its love letter to Africa, and its strategy for bringing a piece of Africa to the rest of the world.
When it launched in 2005, EDUN was a pioneer of ethical fashion. Since then, sustainable, fairly sourced wares have flooded the market. How do you continue to differentiate?
Ali Hewson: When we launched EDUN, we believed that consumers were looking for a new sense of luxury and that Africa could provide them with that. Fast-forward to today: We've remained committed to our mission and to preserving the richness and positivity of our long-standing African partners without compromising the delivery of high-quality clothing and accessories. It is this redefining of luxury that we believe makes EDUN distinct.
EDUN might be considered a love letter to Africa. How did you make this come through in Karibu?
Adriaan Louw: I spent five days with the EDUN team in Kenya, accompanying them on visits to their factories and artisan groups and documenting their creative process as they shot the fall collection. It became clear how genuinely committed EDUN is to building real, lasting partnerships with local artists and craftspeople and to reviving Africa's textile industry. I wanted the film to focus on these relationships and show how central they are to what EDUN creates each season. So I used interviews to guide and drive the film's narrative of respect for Africa and the intimate connection between the EDUN team and people who they work with.
We see that in the suggestion that EDUN bridges the gap between African artisans, a group of people who love what they do and its heritage, and the consumer, who appreciates this.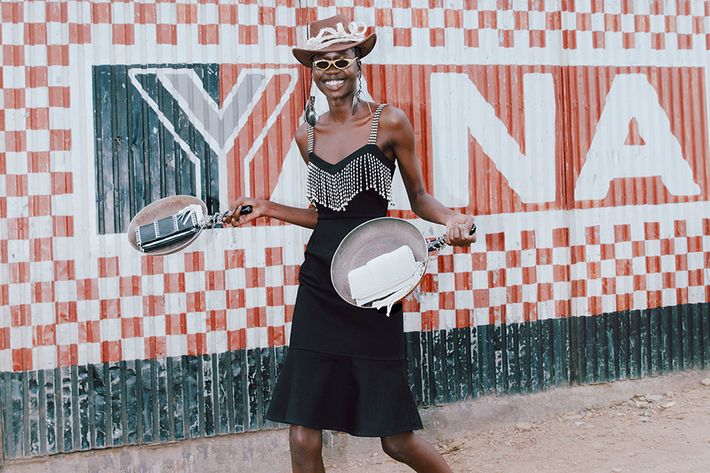 EDUN Collective: It's becoming more and more evident that the story of our product is very important to our consumer. We don't just share its country of origin; we also introduce the people who created it. When we show our artisans their finished products within a collection, we observe the same excitement as when we reveal the story of these collections to our customers.
Karibu alludes to the way people dress in East Africa — in vibrant colors, by collaging prints, and by mixing of traditional and found. How do you translate this for the EDUN consumer?
EDUN Collective: We find creative inspiration in the landscapes, cultures, and way people in East Africa dress each time that we visit. There is a bold counterbalance between modern industrial and artisanal, and we apply that to our creative process. It is the modernity of this mix that we integrate most into our clothes, accessories, and even our new New York store.
What is your ultimate takeaway from making this film?
Adriaan Louw: I think that the words "handcrafted" and "handmade" are thrown around too frivolously in fashion today. EDUN's craftspeople have such a keen attention to detail and a very DIY approach to their work. They have no manual — they use the tools and materials that are available to them and figure out how best to hone their process. Witnessing that was extremely special, and seeing the final products in the collections brought it to an entirely new level. These are true luxury items made with true and traditional handcraft.
Visit EDUN in New York at 265 Lafayette Street.
Photography Kristin-Lee Moolman
Stylist Ibrahim Kamara
This is paid content produced for an advertiser by New York Brand Studio. The editorial staff of The Cut did not play a role in its creation.