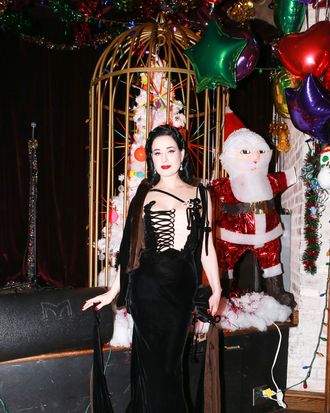 Our recap of the wildest or most beautiful party look from last night.
This party had everything: Christmas-tree rompers, Elon Musk, blow-up Santas in bird cages … and look who just walked in, is that Morticia Addams? No! It was Dita von Teese in half a corset and a velvet dress! Perfect for the burlesque performer, and inspiration if you don't want to button up your dress one day. Plus, if you like shiny things, party host Ellen von Unwerth looked like Santa at the disco in a red-and-gold sequin pantsuit. The provocative fashion photographer matched the tinsel on the walls at her Christmas party in Los Angeles last night, and Los Angela performed. One man had some amazing facial hair. I love parties!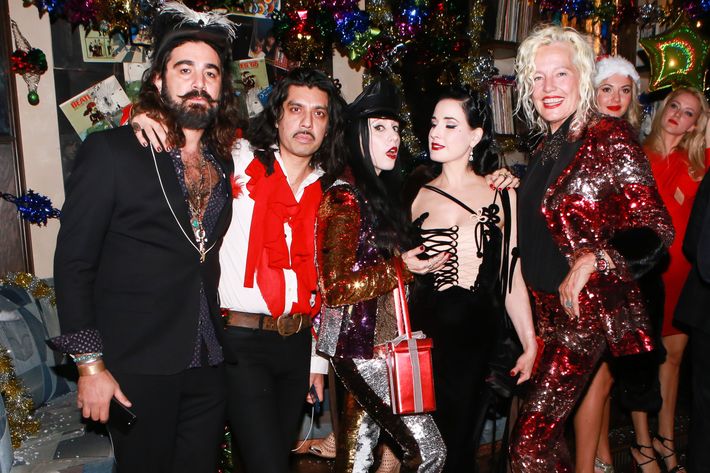 One woman carried a fun present purse! Other people wore their own Santa suits, or pink velvet, slips, and giant bows. Tiny red-and-green dresses were on full display — just add a Santa hat and you're still on-theme! Plenty of party guests followed von Unwerth's lead and wore head-to-toe sequins, but the photographer did it best. Her red suit, accessorized with fur cuffs, a black button-down, and a sparkly black bow tie, encapsulated the mood of the party — fun, over-the-top, and trendy. Anyone hosting a holiday party, take note.