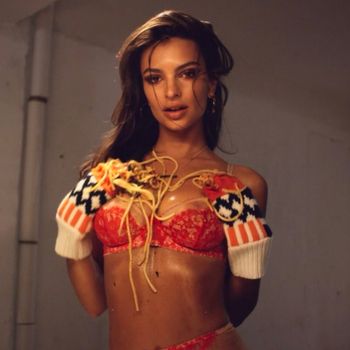 Emily Ratajkowski.
Photo: thelovemagazine/Instagram
Between the constant onslaught of sexual-assault allegations, an administration that is systematically trying to strip us of basic rights like health care, and the looming threat of nuclear war, the past few months have been exhausting. But now, finally, we have an empowering, carb-based respite. In an Instagram post by LOVE Magazine, actress, model, and swimwear designer Emily Ratajkowski defiantly slathers her lingerie-clad body in spaghetti, in the name of feminism.
In a lengthy caption to the post, Ratajkowski writes that "Personal choice is the core ideal in my concept of feminism," and clearly it is her personal feminist choice to writhe around on a table covered in pasta (Oh sure, but when I do that at the Olive Garden, they're all: "Ma'am.")
The video ends with a quote of Ratajkowski's: "I love pasta and being greased up in olive oil more than life itself!"
Truly the feminist rallying cry of our generation.