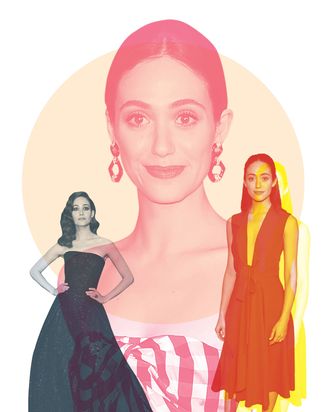 Photo-Illustration: Stevie Remsberg; Photos: Getty Images
As an actress, Emmy Rossum has mastered a wide range of characters. In the movie adaptation of Phantom of the Opera, she played the innocent Christine Daaé, and in Shameless (which she also directed), she took on the tough-as-nails role of Fiona Gallagher. Now she's the new face of Burt's Bees' Beauty and their new "I Am Not Synthetic" campaign, launching a new line of beauty products. Rossum spoke to the Cut about the new job, along with when to eat a whole head of garlic, dancing, and her favorite breakfast.
How I start my morning: With coffee and feeding my dogs. I have two dogs and a cat. Usually they wake me up. I wash my face and brush my teeth all in the shower. I'm one of those people.
If I'm doing my hair and makeup myself I put mousse in my hair and scrunch it up, which I highly recommend for all curly girls. [Rossum uses John Freida Frizz Ease Curl Reviver Mousse]. Then my day look is simple — SPF, under-eye facial oil, a really simple natural day look. I'm a big blush person. I'm not into super contouring, I know it's all over Instagram but I love blush.
What I eat for breakfast: Breakfast is my favorite meal. If we go out for breakfast usually I'll have an egg dish or I'll make eggs. I love shakshuka, which are eggs with tomatoes and eggplant and kale, or I'll fry up eggs with sautéed spinach, or I'll make a smoothie. I work with a nutritionist in California called Kelly LeVeque. She makes a smoothie with almond milk, almond butter, spinach, and vanilla protein powder. It's actually delicious. You don't taste the spinach. I will use yogurt or protein powder but I'm not into bee pollen and stuff like that. It's too much for me.
How I like to sweat: I like to dance, and I love classes. I prefer them to a trainer. I like AKT, BBS, all the initials. I just do a different class every day, some barre classes, trampoline classes, boxing classes. Trampoline classes are really good for your lymphatic system and it's easier on your joints. I did some ballet as a kid but I would by no means call myself a professional dancer. It's for fun and to sweat it out and not take myself too seriously. I just never even considered trainers. When I was a young actress I couldn't afford that and I really like the group energy and being able to high-five people in the class.
What wellness means to me: I don't think of it as a diet, I think of it as a way of life. It's an approach to health so I can have enough energy, not get sick, and do my job.
My job is often really long hours for months at a time. Especially if I'm directing and acting at the same time, it's really long hours and with sometimes limited turnarounds. I just need to make sure what I'm putting in my body is fueling me and not going to make me crash. Similarly, I like to make sure that the things I put on my body and on my skin are safe and healthy and not going to create a problem for my skin that I then have to cover up with more makeup.
How wellness has changed for me: I feel like it's always been something I've done. Like my mom raised me in a healthy, clean eating environment. I used to sneak over to other people's houses to have like, pizza. Having a burger and a coke was a field day for me. It was mostly lots of green vegetables and fish in my house and fruit was for dessert. Carrot juice and garlic were fix-alls in my house.
I got mono once when I was 18 or 19 and I had to go on a press tour for Phantom of the Opera. I ate garlic every single day — a whole head of roasted garlic. I love it, but I'm sure it was not pleasant for those around me because it starts to come out of your skin.
If I know I have a tough few weeks coming up then I'll try to limit how much physical exercise I'm doing and double up on the healthy foods I'm eating so I have enough energy to get the job done.
On nutrition: It's pretty clean. I am allergic to gluten and I have a sensitivity that causes immediate canker sores. I've been off wheat since I was about 13 years old, so almost forever. I went off cow's milk, not off dairy completely because I still eat dairy and some cheese. But I went off of cow's milk for my skin and I realized that almost any pimples went away.
But other than that, I eat everything. I eat sugar, I eat carbohydrates, I eat gluten-free breads. Some of my favorites are roasted chicken and roasted vegetables. I love eggs, I love omelets. I love Burrata so much. I want to take a Burrata-making class. I love sushi. I love Indian food.
My biggest wellness struggle: The pressure to feel that you have to conform to this idea of beauty that's so widespread right now where everything is airbrushed and contoured. Everyone kind of starts to look the same. And I think I'm hungering for a return to naturalism where you can see peoples' freckles and the lines in peoples' faces.
What I love about photography, really, and portraiture, is that you can see peoples' expressions and real texture, not like this kind of overly contoured, high-lit ideal of Instagram beauty that I find suffocating. I don't think I cope differently than any other person who is on social media or looking at billboards. It's not that natural means unpolished or unkempt, it means true to yourself. In this day and age when we're so attacked by these images of overly plumped lips and cheeks and Botox, it's so refreshing to see something that looks real.
My best wellness advice: Listen to yourself and your own body. You know what feels good and what looks good on you. Don't try to fight the things that are unique about yourself.
iS Clinical makes a really great gel cleanser.
If I'm going to work and someone else is doing my makeup, I use an SPF, put my hair in a bun and go. I use an SPF that's really affordable from Control Corrective.
I find it really nice, they have a mini one that I can take on a plane.
If you buy something through our links, New York may earn an affiliate commission.