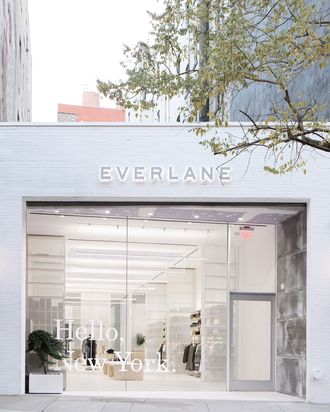 Photo: Courtesy of Everlane
New Yorkers are creatures of habit. If there are black turtlenecks on sale, we will buy them. If there is a line, we will get on it. And if there is anything new happening, anywhere, we will make a pilgrimage in order to form an opinion on the matter.
It is for these reasons that the opening of Everlane's first-ever store in Soho on Saturday was absolutely bananas. A steady stream of customers waited approximately 20 to 40 minutes for a chance to try on the brand's popular $100 cashmere, wide-leg crop pants, and Day heels in person, forming a line down the block. (Many of them toted shopping bags from Everlane's Millennial-friendly neighbors, Glossier, Madewell, and the Reformation. Plus, I spotted at least one Postmates delivery woman.) Across the street, tourists waited almost as long for Prince Street Pizza. Meanwhile, just a few blocks away, teenage boys corralled themselves into barricades with their parents for the chance to shop at Supreme.
Is it possible for Everlane's products to rival New York's greatest exports, dollar slices and box logo tees? With online waitlists that have reportedly stretched to 28,000 people, it wouldn't be so farfetched. This terrifies me — not because I'm opposed to what Everlane is selling, but because the brand's elevated basics are so seductive that I'm afraid all of New York will soon fall under their spell. Everlane knows what we want; they've got the data from online orders and past New York pop-ups. Here it is, staring back at us, begging us to shop.
"New York is one of our key markets and is where we design all of our product," Everlane CEO Michael Preysman wrote in an email. "New Yorkers have an appreciation for great design, which fits in with our ethos and aesthetic. They also have a keen interest in learning more about the factories and people who work there."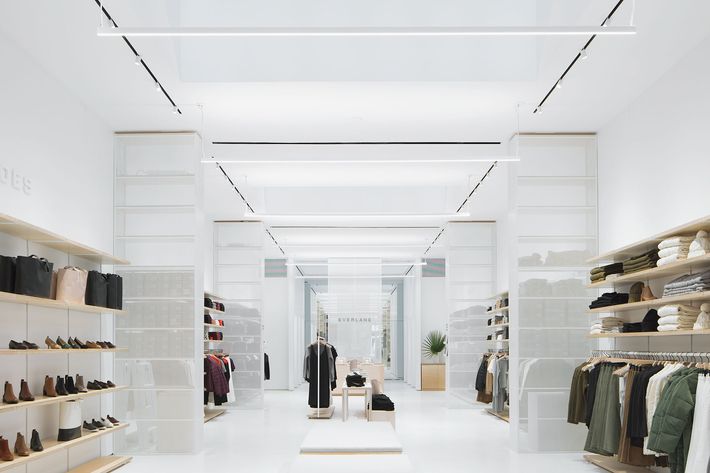 Until last week, I was an Everlane virgin. Of course, I was already very familiar with the brand — just about every woman I know has at least one piece of Everlane in their closet, and I can think of a handful of men who should. Working at the Cut, I also know for a fact that you (yes, you!) are obsessed with Everlane, and, in the spirit of transparency, tend to click on stories about it. My colleagues and I recently took the brand's new denim line for a spin. But I've never actually bought anything from Everlane myself.
While perusing Everlane's website in the past, I've thought: I could use this. I've added items to my cart. I've gone as far as entering my shipping information. But I get absolutely no pleasure from spending money on things that I need. In my head, I could never justify an Everlane purchase over a Uniqlo one. (Abstaining was also, admittedly, a nice chip on my shoulder.)
And in my heart of hearts, I knew that as soon as I leaned in to Everlane, I would fall so hard into its comfortable, feel-good basic-dom that I would wake up one morning looking like Meghan Markle. Worse things could happen, to be sure, but what really terrified me was leaving my apartment and entering into a sea of New Yorkers marching in lockstep in wide-leg pants and affordable cashmere sweaters. Is that not the most boring nightmare you've ever heard?
Despite my fears, it is not possible for every woman in New York to wear the same Everlane uniform, even if they wanted to, because its clothes are designed to to sell out. You can't even buy denim in the store because the brand doesn't have the manufacturing capability, nor the inventory to ethically keep it in stock. In a way, Everlane is saving us from ourselves, but I still believe the physical store will make it that much easier for New Yorkers to dress, well, easy.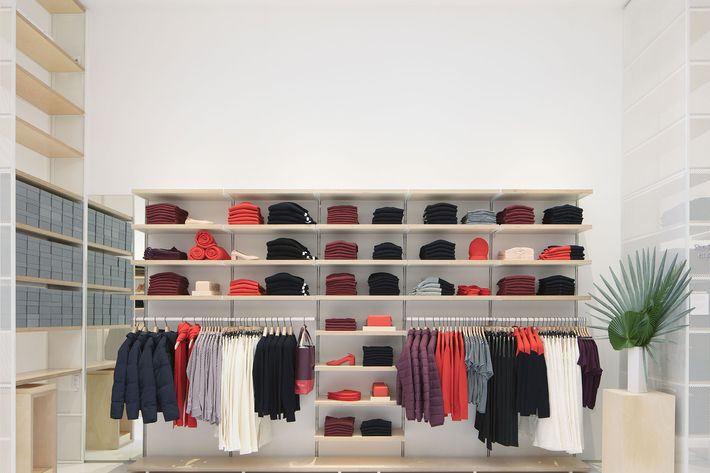 Everlane advertises its New York store as being "like a website you can walk into." With white walls and floors, light wood shelves, and Instagram-friendly plants, it comes pretty close. When I walked in on Friday for a press preview, the white wide-leg pants ($68) that I'd been stalking for months online greeted me at the door. When I went again on Tuesday afternoon, the same could be said about the gray blazer ($150) that I thought was sold out in my size. I tried them on only to learn that I was not the size I thought I was in either, and that they were much softer and more durable than I'd imagined. I bought both. Plus a black cardigan sweater ($130). It was so easy to imagine them in my life. Help!
Because Everlane's ethics are such a huge part of its branding, the store promotes these values as well. For example, there is a small "community space" in the front of the store (not unlike Sweetgreen's benches), which seemed to serve more as a weary boyfriend/dad perch on Saturday. Visitors can also pick up a pair of headphones and listen to the whir of clothes being made live in the brand's ethical Los Angeles factory, or take an informational postcard on its factories overseas.
"As we've grown, we've found that the brand is about much more than just our products," said Preysman, explaining why he finally decided to give in to brick-and-mortar retail. "Now more than ever, customers want to make connections and experience the brand in person."
When I asked a handful of people waiting in line on Saturday what they liked about Everlane, rather than commenting on the brand's clothes, the resounding response was about how "trustworthy," "transparent," and "ethical" the brand was — key words fed to customers since the beginning. "You know what you're paying for," said one woman, despite the fact that she hadn't even walked into the store yet. "They're not trying to scam you."
In the age of social media and online shopping, it is arguably much easier for a brand to earn the trust of its customers. Like the celebrities or influencers we follow, the brands in our feed come to feel like our friends. In person, or "IRL," as Everlane likes to say, things are messier. You can see the thin layer of construction dust on the floor, the storage room in the back, the salesperson who takes too long to find your size. There's simply more room for error when human beings are involved.
The question is: Will this detract from Everlane's luster? Like meeting a Tinder crush, only to discover there's no hair underneath their beanie? Or will it humanize the brand even more, forming an even stronger bond? Based on my own experiences at the store, I think it's safe to assume the latter. Everlane also saves itself from criticism by being open about making improvements. Unlike Tinder dates, they want to hear your feedback.
At the end of the day, I trust New Yorkers more than anyone else. We may be predictable in what we buy, but we're creative in how we style it. We also have a zero-tolerance bullshit policy. So, heck, if you're buying into Everlane, so am I.