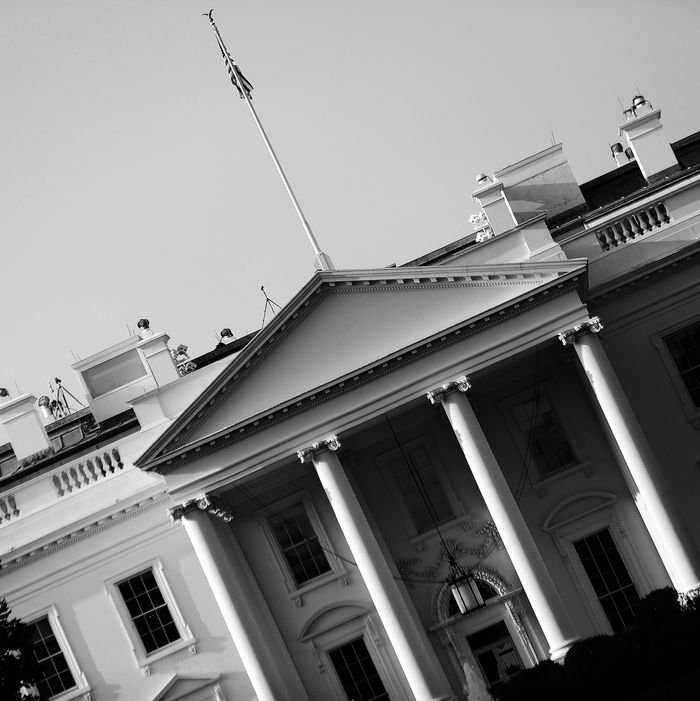 A crooked White House.
Photo: Jewel Samad/AFP/Getty Images
Like a big group of teen boys ripping a bong for the first time, everyone in the White House is reportedly paranoid as hell that their supposed allies are wearing wires, according to a person close to Trump who spoke to Politico. Is your friend really your friend … or is he cooperating with Special Counsel Robert Mueller's Russia collusion probe?
While Trump's circle was already anxious after former campaign aide George Papadopoulos's guilty plea deal in October cemented a link between a campaign official and Russia, it was former national security adviser Michael Flynn's guilty plea last week that reportedly turned everyone into paranoiacs.
"Everyone is paranoid," a person close to Trump's White House said. "Everyone thinks they're being recorded."
And their concerns are legitimate. Inside Flynn's plea deal is an agreement that he could reduce his potential jail term were he to participate in "covert law enforcement activities." Upon learning about this agreement, White House attorneys and private counsel who represent both past and current Trump aides told Politico that they called up their clients and asked if they thought there were any incriminating recordings circulating out there. Cue a collective panic attack.
"They're probably shitting bricks," one attorney who represents a senior Trump aide caught up in the Russia investigation told Politico. "How can you not?"
While there's no official confirmation that Mueller has put wires on anyone, and a handful of White House lawyers and various experts expressed to Politico that everyone is overly concerned, it's nice to think that everyone in the White House is feeling as anxious as we are these days.