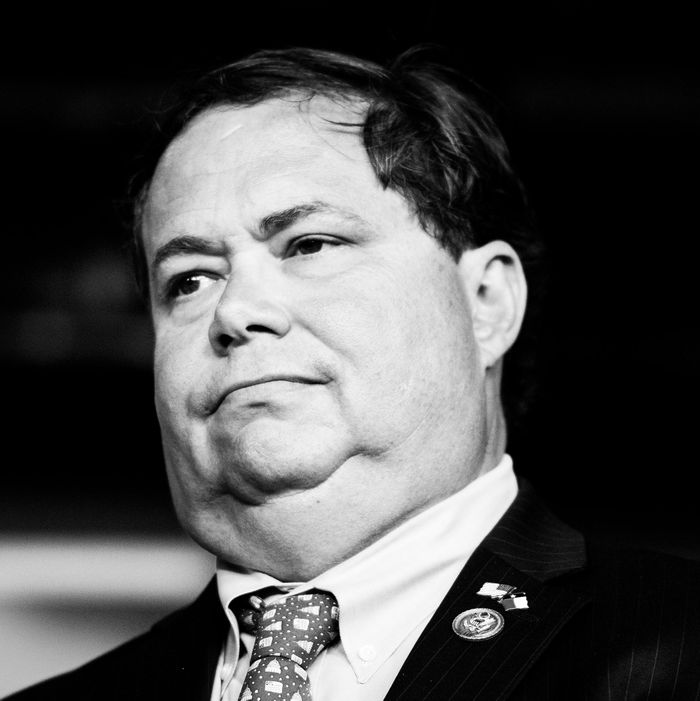 Blake Farenthold.
Photo: Bill Clark/CQ-Roll Call,Inc.
A former senior aide to Texas representative Blake Farenthold told the House Ethics Committee that the congressman was frequently verbally abusive, sexually demeaning, and a fan of using curse-slur hybrid words. Farenthold is known for settling a harassment suit with taxpayer funds, wearing ducky pajamas, and threatening to duel female senators.
Michael Rekola said that he suffered physical health issues because of Farenthold's verbal abuse and sexually demeaning nature over the nine months Rekola worked in Farenthold's office as communications director in 2015.
Rekola told CNN that Farenthold made sexually suggestive comments to Rekola before his wedding. Farenthold allegedly said he "better have your fiancée blow you before she walks down the aisle — it will be the last time." Rekola also painted Farenthold as a very angry person who often called people "fucktards." Farenthold denied that he made the comment about Rekola's now-bride, but admitted that he called his aides fucktards, "in jest, not in anger."
"In hindsight, I admit it wasn't appropriate," Farenthold told CNN.
Rekola said that by the spring of 2015, he was suffering from anxiety and chronic stomach pain. The reported bullying led to him passing out on the job and a stint in the hospital for stress-related stomach problems. Farenthold said that he remembers his issues as "not stress related, but we recall him saying he was allergic to anything he ate."
Elizabeth Peace, who also worked for Farenthold, confirmed to CNN that Farenthold made comments about Rekola's fiancée and that sexual jokes and slurs hurled at aides were common.
Rekola says that he hopes his story encourages more people, including men, to come forward. "Anyone, not just women, can suffer from either a hostile work environment, bullying or sexual harassment."