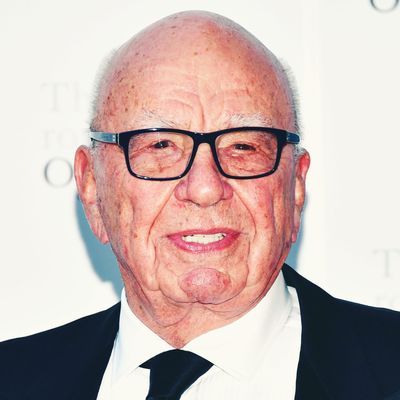 Rupert Murdoch.
Photo: Dia Dipasupil/Getty Images
Current and former women of Fox News were furious when media mogul Rupert Murdoch dismissed the company's sexual-harassment problem as "nonsense" last week, and this morning, one woman went on CNN to personally rebuke Murdoch's statement. Tamara Holder, a past Fox News contributor, told Brian Stelter that "Fox News ruined people's lives."
Going on CNN was a risky decision for Holder, who received a $2.5 million settlement with Fox News that came with a non-disclosure agreement. However, she felt that she could legally break her NDA because Murdoch had not just "disparaged or defamed" her, but also all the other women who weren't able to come forward.
On Sky News last week, Murdoch said, "There was a problem with our chief executive [Roger Ailes], sort of, over the years, isolated incidents," but "nothing else since then."
As evidenced by Holder's own case, Murdoch told a blatant lie.
"He said there were cases that amounted to flirting," she started. "Let me be clear. I had a man pull out his penis in his office and shove my head on it. That was not flirting, that was criminal."
The person she is referencing is Francisco Cortes, the former vice-president for Fox News Latino, whose contract was terminated. Holder left Fox News on January 1, 2017, after her contract expired. She no longer works in television, which she blames on Murdoch.
"I don't have a job in TV anymore because the place he has secured down like Fort Knox allowed abusive predators to prey on women who just wanted to work," Holder said, adding that part of her settlement was a permanent ban from ever even applying to work for a 21st Century Fox company.
To further his (easy-to-disprove) argument that Fox News doesn't have a sexual-misconduct problem, Murdoch said that the network was solely under high scrutiny because Fox is conservative. Holder, too, challenged that point.
"If this is political, then let's take these cases to trial," she said. "Let's open it up. You're the ones who wanted to settle. You're the ones who wanted us to be quiet."