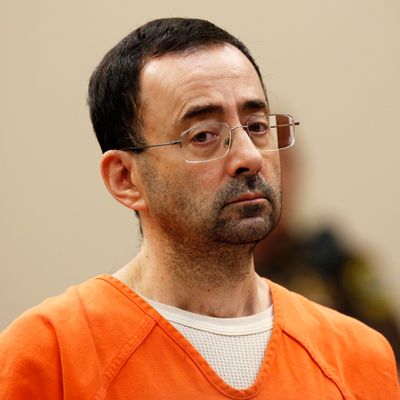 Larry Nassar.
Photo: JEFF KOWALSKY/AFP/Getty Images
Larry Nassar, the former USA Gymnastics team doctor, has been sentenced today to 60 years in federal prison for child pornography, CNN reports. Nassar is 54 and is expected to serve a life sentence.
Nassar was the team doctor for USA Gymnastics for four Olympic Games, and worked at Michigan State University from 1997 to 2016. To date, he's been accused by more than 140 women of sexual assault, including gymnasts Aly Raisman, Gabby Douglas, and McKayla Maroney. In November, Nassar pleaded guilty to seven counts of criminal sexual misconduct, and now awaits sentencing for those crimes.
McKayla Maroney and Aly Raisman submitted letters to the court calling for Nasser to receive the maximum sentence. The women discussed the pain they suffered as a result of Nassar's behavior and criticized USA Gymnastics, Michigan State University, and the U.S. Olympic Committee for failing to protect them.
"A simple fact is this. If Michigan State University, USA Gymnastics and the U.S. Olympic Committee had paid attention to any of the red flags in Larry Nassar's behavior, I never would have met him, I never would have been 'treated' by him and I never would have been abused by him," McKayla Maroney wrote, according to ESPN.com.
In her letter to the judge, Raisman called for an examination of the system which allowed Nassar to keep his job.
"Until we understand the flaws in their systems, we can't be sure something like this won't happen again," Raisman wrote. "This problem is bigger than Larry Nassar. Those who looked the other way need to be held accountable too. I fear that there are still people working at these organizations who put money, medals and reputation above the safety of athletes."
Read Raisman's full letter here.