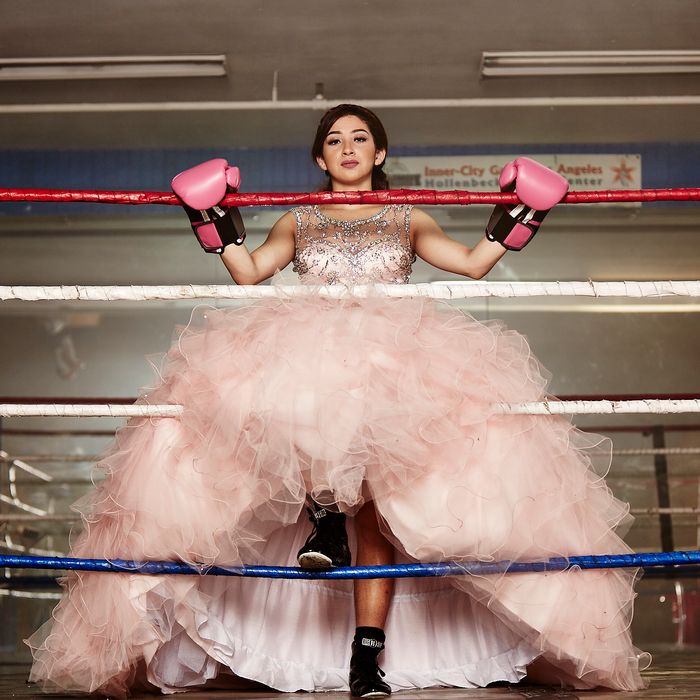 Trying to find something on TV the whole family can watch together over the holidays is a tall order. But you can't get more universal and delightful than HBO's new four-part series of documentary shorts, 15: A Quinceañera Story. Shot over the course of a year, the films follow five young Latina women from around the country as they get ready to celebrate their 15th birthdays. There are parties, music, and a sense of community and tradition that might even get a grumpy uncle to shed a tear.
The films, from directors Matthew O'Neill and Thalía Sodi and producer Tommy Mottola (the team behind HBO's Latin Explosion), are all going to be available on HBO Go and HBO Now starting tonight. There's Ashley Lopez, an aspiring boxer from East L.A., whose father has already been deported and whose beloved coach, a Dreamer, is being summoned to immigration hearings as she's trying to put together her big day. There are best friends Jackie Ayala and Nina Ozuna of San Antonio, Texas, who are putting together an escaramuza, or dance on horseback, to celebrate their Mexican heritage. And there's Rosi Alvarez, a Cuban-Guatemalan-American from Ft. Meyers, Florida, whose family is trying to figure out how to give her a party on the money they make from washing cars and selling tacos on the street.
Especially, though, you're going to want to check out the story of Zoey Luna, a trans teen from Downey, California, with the most enlightened, amazing mother in the world. For her quinceañera, she gathered together an entire community of older trans women to be her madrinas (godmothers, for the purpose of the ceremony), and enlisted a trans dressmaker, Gloria Sanchez, to make her a ruffled-and-beaded lilac gown that would make Cher proud, as you can see in the clip below. It's a glorious celebration of a girl getting to be the girl that she thought she might never get to be.