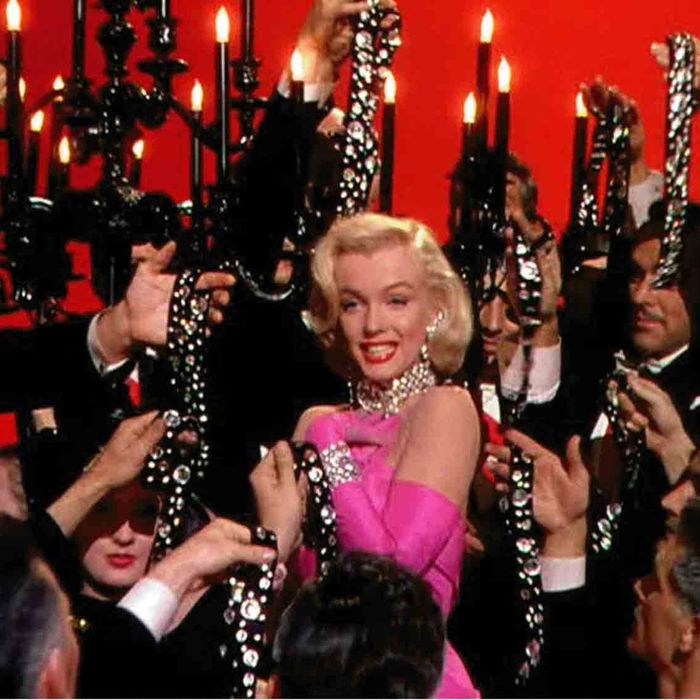 Marilyn says you should.
Photo: 20th Century-Fox.
Peeling back a neatly wrapped present to reveal a pair of perfect shoes ranks high on our Christmas morning fantasies. What's even better? Opening a velvet box with something sparkly and exceedingly decadent. From a starburst diamond ring to yards of rubies, our favorite dream gifts are shamelessly over-the-top — the stuff of Real Housewives franchises. So take a moment from panic shopping for last minute holiday presents and ogle some of the season's most spectacular jewelry.
The Star of Your Ring Tray
This is literally supposed to mimic a supernova, albeit covered in diamonds.
Because Hoops Are Having a Year
And nothing is impressive as giant ones heavily studded with diamonds.
When Red Is Your Power Color
Photo: T|Tiffany & Co. Studio
It doesn't get more impressive than a chain full of gleaming rubies.
The Red Carpet–Worthy Earrings
Photo: NMJPhotograpahy
These eye-catching danglers made from pink sapphires are made to be worn with an equally as dramatic gown.
Because You Appreciate a Good Stack
These two rings neatly nest into one another in a very satisfying way.
For the discriminating gala attendee, this is an especially striking one-of-a-kind gigantic tourmaline necklace.
When all you want is something elegant, classic, and decidedly lacking a touch screen.
Photo: © Van Cleef & Arpels
These circular creations aren't your standard diamond earrings and that's precisely the point.
Because You Love a Surprise
With a twist, this bracelet reveals a secret watch face.
If you buy something through our links, New York may earn an affiliate commission.