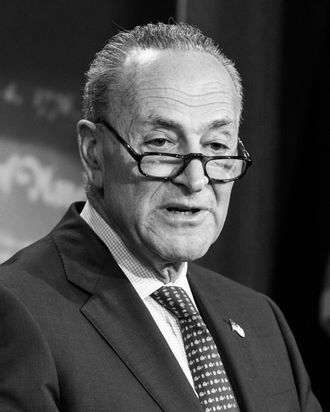 Senator Schumer.
Photo: Tasos Katopodis/Getty Images
New York senator Chuck Schumer has turned over a document to Capitol Police containing fake allegations of sexual harassment against him, Axios reports.
They, and other outlets, received a PDF document of what purports to be a complaint against Schumer filed in 2012 by a former staffer. His Communications Director called it a "a forged document" and said "every allegation is false."
"The claims in this document are completely false, my signature is forged, and even basic facts about me are wrong. I have contacted law enforcement to determine who is responsible," said the staffer in question. "I parted with Senator Schumer's office on good terms and have nothing but the fondest memories of my time there."
It's unclear who was behind the document. This comes weeks after conservative group Project Veritas tried to plant a fake story about Roy Moore in an attempt to prove liberal media bias — which backfired spectacularly.