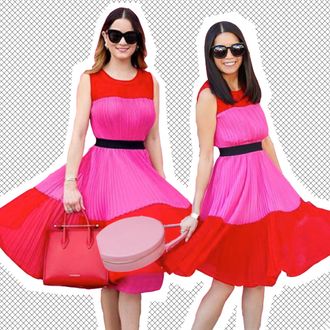 Photo: Courtesy of Instagram/jenniferlake; Courtesy of Instagram/rclayton
What do you do when you're being copied on Instagram?
This question was posed by Chicago-based Instagram star Jennifer Lake on her fashion blog, Style Charade, last week in regards to a situation that she's been dealing with for more than three years. "I've had enough," she writes.
According to Lake, someone has been "systematically" copying her channel captions, location concepts, and personal style. "I'm not talking about just a dress, a pose, a wall, etc. (although there's that too)," she explains. "It's about ongoing examples of copying (exact looks, images, and ideas)." Even when Lake tries to "pivot," the unnamed individual allegedly follows.
Per a social-media deep dive by Chicago magazine, the copycat in question is Rosie Clayton, a fellow Chicago fashion enthusiast and former friend of Jennifer Lake. Together, they're two of the most popular Instagrammers in the city. Clayton was actually first to join Instagram back in November 2011. (Lake joined one month later.) But it is Lake who currently boasts more followers (149,000 versus 119,000). If you compare their accounts side by side, which Chicago did in the name of journalism, the similarities are nearly impossible to deny.
When Chicago reached out to Clayton for comment, she denied any foul play. "I'm not connected with certain big fashion bloggers and I don't have a blog [like Lake]," she said while traveling for Art Basel Miami. Clayton also added that the clothing and accessories they both wear are popular among many women, not just the two of them. "Because I have less followers it looks like I'm the one copying," she said.
When it comes to their captions, Clayton shifts the blame as well, saying it was she who started using pun-heavy captions first. Chicago investigated: "Lake posted a few puns in the summer of 2013 but really ramped up in the spring of 2014," writes Chiara Milioulis. "Clayton started punning in the fall of 2014. Both women wear sunglasses in almost every photo, which Clayton began doing in June 2016 and Lake in September 2016."
[Mic drop!]
Lake declined to comment. But commenters were quick to add their own conclusions.
"If you scroll back to through Jenn and Rosie's Instagram feeds is it clear that Jenn had developed this bold and bright aesthetic first, only to have it mimicked by Rosie shortly thereafter," writes one person, providing dates and specific posts as examples.
"This is just wrong," responds another user. "They both started doing mostly walls in August 2015. They both also posted random shots of walls very sporadically before that, just like literally everyone else on Instagram (they sure as hell didn't invent the idea of posing against walls)."
This goes on for two more rounds, with others chiming in to accuse one commenter of being Jenn Lake herself under a fake username.
Meanwhile, on Lake's blog, she spells out why she's decided to stir the pot now, despite the fact that (as she readily admits) we've got much bigger problems in the world. In short:
When someone copies you…

…they steal your ideas.

…they rob you of money and campaigns.

…a small part of your creative soul dies inside.
While it's easy to find the humor in all this, it is also perhaps worth being reminded that, as Lake writes, "Instagram is a business," which people like herself rely on. As we saw with the #NoFreePhotos drama during Milan Fashion Week this September, the question of who owns what on social media and how everyone profits is a very real one that has yet to be answered definitively. There are no rules, and despite what it might look like, the stakes are actually pretty high.
"How do we, as an Instagram, blogging, and online community, protect our creative content and brands?" Lake concludes in her blog post. "We can't patent our ideas or pages. So how do we fix this? How do we protect each other from this situation happening?"
Because her mantra is "action, not reaction," Lake offers some suggestions, including "say something," "give credit where credit is due," and yes, "choose sides." If you don't like what you see, un-follow, she suggests. This applies for both sides.