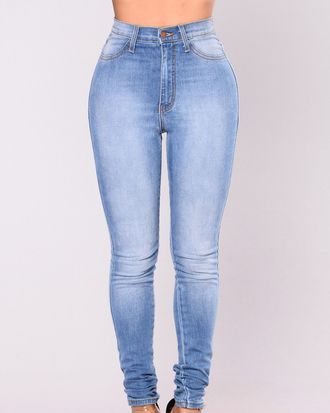 Fashion Nova jeans.
Photo: Courtesy of Fashion Nova
Fashion Nova's prices may be low, but the women's clothing line did big numbers this year.
According to Google's Year In Search data from 2017, which was published today, Fashion Nova was one of the fourth most searched fashion brands in the United States, ranking just after Supreme and before behemoth fashion houses like Chanel, Yves Saint Laurent, and Christian Dior.
If you've never heard of Fashion Nova, you certainly know its fans, or "shmoney gang," as Cardi B likes to say. Celebrities like Kylie Jenner, Amber Rose, Blac Chyna, and of course, Cardi B have all promoted the brand on their social-media feeds, which explains its high online traffic. For example, when Kylie Jenner posted an #ad for the brand last year saying how she was "obsessed" with her Fashion Nova jeans, the post received over 2 million likes. According to a Vice interview with Fashion Nova's founder and CEO, Richard Saghian, the brand has around 3,000 to 5,000 additional influencers in its rolodex as well.
Cardi B in particular likes to support Fashion Nova, because the brand supported her back when few other high-fashion brands would. "Shoes: $1,200 dollars. Glasses, like $400 dollars. But bitch, my outfit? $20 dollars bitch," Cardi B says in one of her early viral Fashion Nova posts. "Learn how to budget, hoe," she adds. While brands like Dolce & Gabbana also have a gaggle of Millennial influencers at their beck and call, it's hard to compete with #content like that.
Below, the top ten most Google-searched brands in 2017.
Fashion Brands
1. Gucci
2. Louis Vuitton
3. Supreme
4. Fashion Nova
5. Chanel
6. Yves Saint Laurent
7. Christian Dior
8. Dolce & Gabbana
9. Valentino
10. Moschino