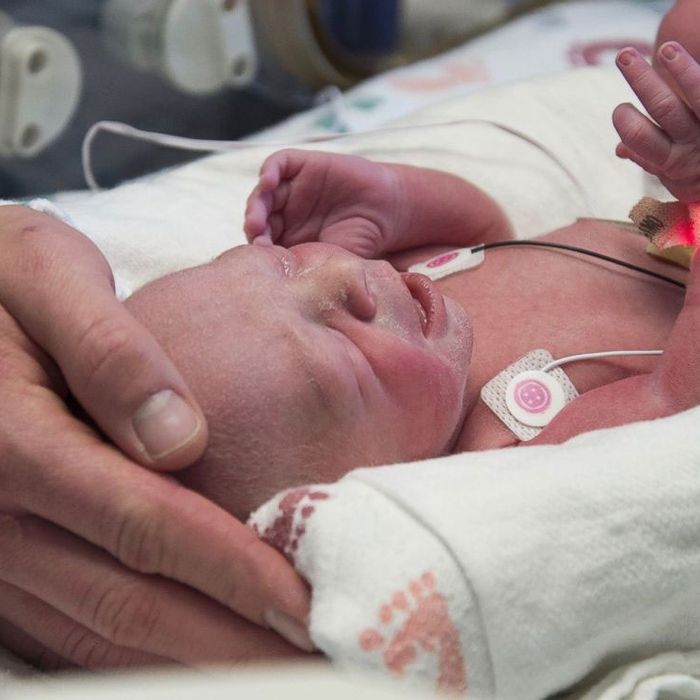 Photo: Baylor University Medical Center in Dallas
A woman who received a uterus transplant recently gave birth in Texas — marking the first baby (a boy) in the U.S. born through the groundbreaking medical procedure, doctors confirmed on Friday.
ABC News reports the mother was born without a uterus and, as a result, suffered from Absolute Uterine Factor Infertility, a condition affecting approximately 1 in 500 women, who either don't have a uterus or for whom the organ is ineffective.
The mother, who underwent the procedure last September, is one of eight women who have received a live donor transplant at Baylor University Medical Center. Women who receive the procedure are able to have the uterus removed after birth, or they can use the transplanted uterus to carry another pregnancy, the Associated Press notes. Thus far, three of the U.S. transplants have been unsuccessful, one of the women is pregnant, and the other three are in different stages of the transplant process.
The new mom — whose identity has been kept confidential — is the first recipient in the U.S. to give birth, and the ninth worldwide. Doctors revealed in a recent press conference that she is back home and that the baby is doing fine, though he remains hospitalized for monitoring.
Speaking with ABC News, Dr. Liza Johannesson, one of the doctors who helped deliver the baby, said everyone in the delivery room had "tears" in their eyes after the successful birth. "This little boy will stay with us for our entire life," she said.