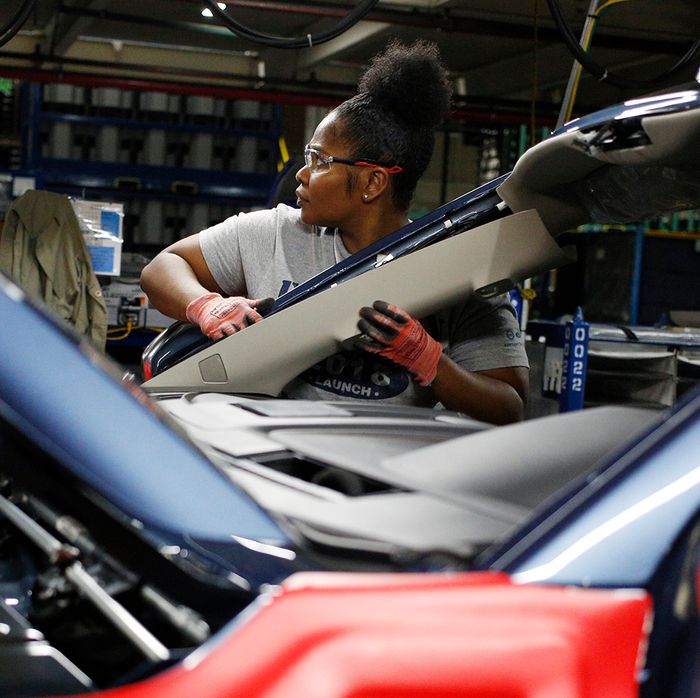 A Ford plant in Kentucky.
Photo: Bloomberg/Bloomberg via Getty Images
Earlier this week the New York Times released an explosive report chronicling 25 years of sexual harassment experienced by women at two Ford factories in Chicago.
And today, in what feels like a rare move for the head of a major American corporation, Ford Motor Company CEO Jim Hackett released a straightforward, seemingly sincere, open letter apologizing on behalf of the company.
"Candidly, it was gut wrenching to read the accounts of these women in the New York Times article," Hackett wrote in his letter. "There is absolutely no room for harassment at Ford Motor Company."
"Our promise is that there will be no retaliation against anyone who speaks up, and no one is above the rules, no matter where they are in the hierarchy. This is absolute. We have zero tolerance for any behavior like this, and we will stamp it out all together," he added.
Of course, this is not the first time Ford has pledged to change their culture. And the company has already settled two workplace-discrimination suits with the federal government. (They settled one for $10 million dollars in August, and another for $22 million in the 1990s.)
Which means employees are happy to see management's response, but understandably skeptical. Gwajuana Gray, who has worked at Ford for 25 years, and first sued the company in the 1990s, told the Times:
"It has to be a different environment, a different culture … I hate for people to be fired, but if they won't change, or they think they are untouchable, they have to be fired."