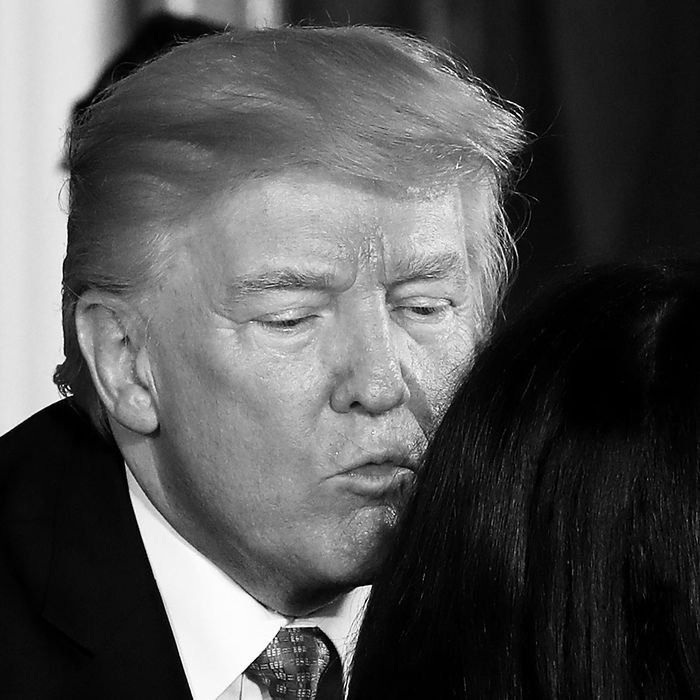 Trump going in for a kiss.
Photo: Win McNamee/Getty Images
Former Fox News host Juliet Huddy said that Trump — a man who has been accused of everything from making inappropriate remarks to rape, by over ten women — allegedly tried to kiss her in an elevator after the two had a professional lunch meeting at Trump Tower, Page Six reports. While Huddy at the time dismissed her own shock, she said she now realizes that his alleged behavior was inappropriate.
On Compound Media's Mornin!!! With Bill Schulz, Huddy described the incident, which reportedly occurred in 2005 or 2006. She said that Trump took her to lunch at his luxury Manhattan high-rise to talk about her potentially doing something with The Apprentice, and that when they were saying good-bye, Trump allegedly kissed her in the elevator.
"He took me for lunch at Trump Tower, just us two," she said. "He said good-bye to me in an elevator while his security guy was there; rather than kiss me on the cheek, he leaned in to kiss me on the lips. I wasn't offended, I was kind of like, Oh my god."
While she was "surprised that he went for the lips," Huddy shrugged it off. A few years after the incident, though, Trump joked about pursuing her on "The Morning Show with Mike and Juliet." She recounted the latter interaction, which made her start to question Trump's behavior in the elevator:
"Trump was a guest and he came onstage. He said, to the audience and producers, not on camera, 'I tried hitting on her but she blew me off.' He was laughing. At the time I was not offended by it, I thought he was a single man and leaned in for a kiss … maybe he thought, She's been out to lunch with me and maybe she is interested.




"Now I have matured, I think I would say, Woah, no, but at the time I was younger and I was a little shocked," she said. "I thought maybe he didn't mean to do it, but I was kind of making excuses."
Trump has not yet responded to the allegation.