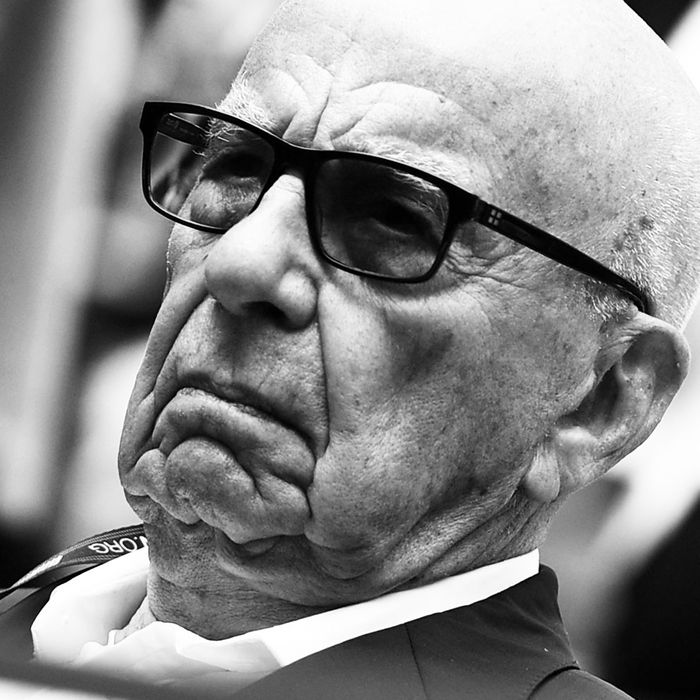 Rupert Murdoch.
Photo: JEWEL SAMAD/AFP/Getty Images
Between scandals surrounding Roger Ailes, Bill O'Reilly, and Eric Bolling, Fox News is no stranger to allegations of sexual harassment in the workplace. So when media mogul Rupert Murdoch went on Sky News to discuss the $52 billion deal between Walt Disney Co. and 21st Century Fox, and he dismissed the network's sexual-harassment problem, former and current women of Fox were furious.
According to a report in the Huffington Post, Sky News host Ian King asked Murdoch if the ongoing sexual-misconduct allegations had damaged Fox News Channel, to which Murdoch responded, "All nonsense."
"There was a problem with our chief executive [Ailes], sort of, over the years, isolated incidents," he continued. "As soon as we investigated it he was out of the place in hours, well, three or four days. And there's been nothing else since then."
This is a blatant lie, according to the ten former and current Fox News staffers to whom HuffPost spoke. All women, who have chosen to remain anonymous, said they have faced sexual misconduct by current and former Fox News employees. One woman said she was "hungry for justice," while another threatened to go "public with the truth."
"I have had to put up with a hostile work environment for years, and now I'm told that it doesn't exist by a man who doesn't have to walk these halls every day? I'm hungry for justice," said one woman who is part of the network's on-air talent.




"Hey Rupert — stop with the lies or we'll go public with the truth. All of it. Including about the talent and executives you still employ who have harassed us and don't give a damn about workplace respect — only money," said a woman who was previously a member of Fox News' on-air talent. "How much will it take before you actually start caring about your female employees? Is your 52 billion enough? Are we really going to clean house now?"
Following the publication of the Huff Post report, a 21st Century Fox spokeswoman responded, saying Murdoch's comment was mischaracterized.
"Rupert never characterized the sexual harassment matters at Fox News as 'nonsense,'" she told the Huffington Post. "Rather, he responded negatively to the suggestion that sexual harassment issues were an obstacle to the company's bid for the rest of Sky … Rupert values all of the hard-working colleagues at Fox News, and will continue to address these matters to ensure Fox News maintains its commitment to having a work environment based on the values of trust and respect."
Between July 2016 and May 2017, Fox News reportedly spent $45 million "related to settlements of pending and potential litigations." Given this number does not include the $40 million in severance pay that Ailes reportedly received, it seems like the only ones who are respected are the accused.