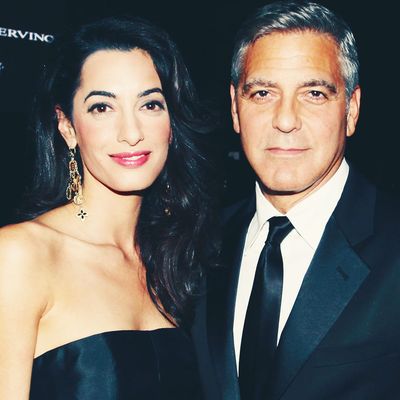 Amal and George Clooney.
Photo: Andrew Goodman/Getty Images for Celebrity Fight
In most circumstances, spending several hours flying overseas with baby twins as your fellow passengers might sound … unpleasant. But when those babies belong to George and Amal Clooney, well, that's a different story.
"Page Six" reports that the internationally renowned human-rights attorney and her actor husband were recently spotted on a flight to the U.K. with their wonderfully normal-named twins, Ella and Alexander. But the Clooneys made peace with first-class passengers before the flight even took off — by handing out Casamigos tequila–branded noise-canceling headphones and a note "apologizing ahead of time" if the twins cried.
Per "Page Six":
"Even Quentin Tarantino, who was onboard, wore the headphones," a spy said. But "the babies didn't make a peep!"
Sign us up for one of these Clooney flights!