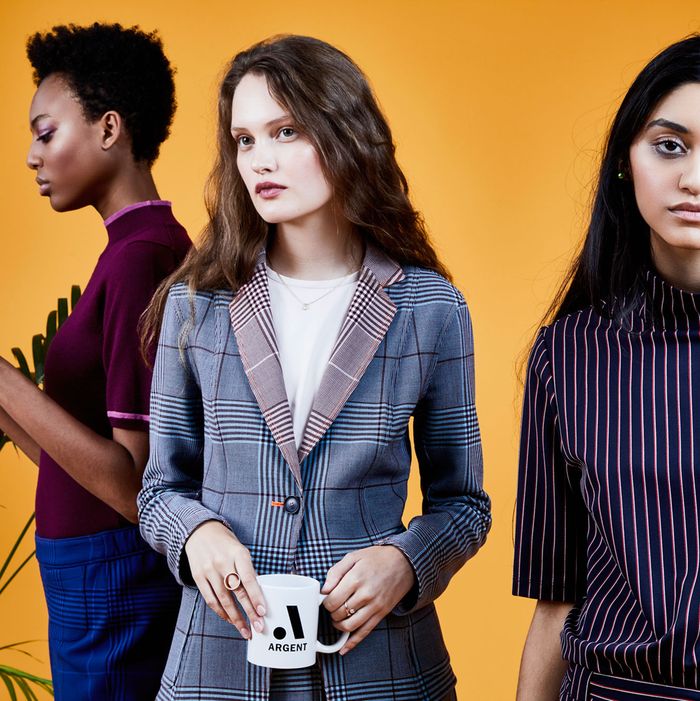 Picture this: It's February 2016 and you and your business partner are waiting in a photo line at the Professional Businesswomen of California conference in San Francisco. When your turn comes, you blurt three words: "We make pantsuits!" That's how Sali Christeson and Eleanor Turner of the workwear line Argent got their products on Hillary Rodham Clinton, supreme leader of pantsuit-nation citizens everywhere.
"Her jaw dropped, and it's the worst picture I've ever taken in my life", Christeson says on the phone from San Francisco. "She was unbelievably supportive. She communicated that she was interested in wearing the clothes and supporting us and she looked over to her team a couple of times to make sure that we were connected."
"And then we walked around the corner and we're hugging anybody in sight and Huma [Abedin] popped out and introduced herself," adds Turner on the phone from the N.Y.C.–D.C. Amtrak. "That was the start of the relationship."
Clinton was so impressed that she later urged Abedin to show off her reversible suit in Rebecca Traister's postelection story for this magazine. "They make them all in New York, and they're not unreasonably priced!" she told Traister. "I just want to support more of these young women-owned businesses, and I think it's so sweet that they are making pantsuits!"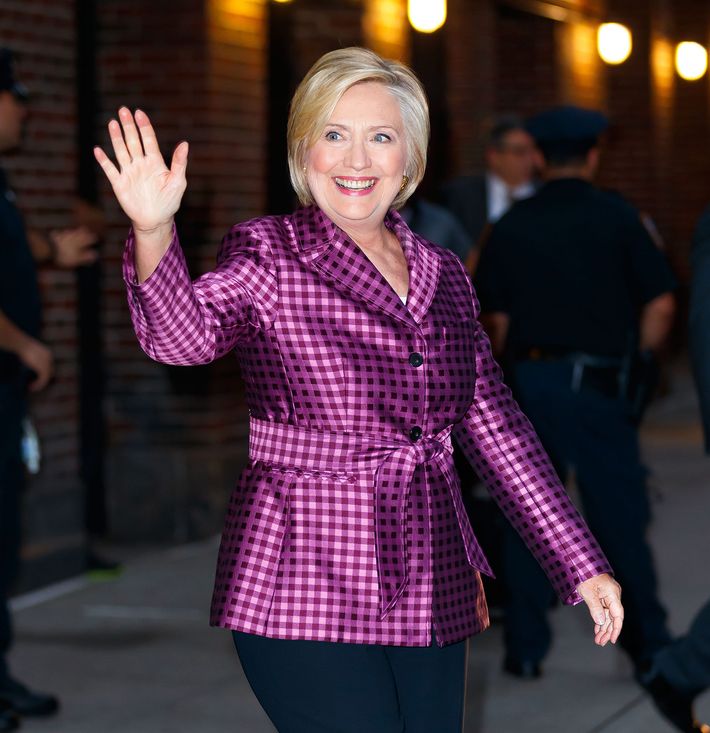 Argent makes well-cut, high-quality, super-functioning workwear (pantsuits, yes, but tops and shift dresses and trench coats, too) that won't get in the way of you doing your job. Take their reversible suit in electric blue plaid, which turns into a color-block suit with a contrasting collar when you reverse it. Not only is it a twofer, but both sides have pockets.
Argent's pants come with handy loops on the waistband to secure any badge you might need to carry. Their fabrics have UVB 30 and respond to your body's temperature. Their jumpsuit has a back zipper and a 'tuckable' bodice that means you don't have to take the whole thing off to use the restroom. And this season — thanks to email feedback from a customer fed up with having smudged glasses all the time — the two exterior pockets on the blazers are lined with microfiber. You can pull it out to clean your glasses and shove it right back in when you're done.
Sandy Carter, the VP of Amazon Web Services, is a fan. So are Ali Pincus, co-founder of One Kings Lane; Meena Harris, the founder of Phenomenal Woman Action Campaign; Ana Corrales, the VP of Google Store, Global Ops, Supply Chain; and Glossier's Founder and CEO Emily Weiss. Oh, and Gloria Steinem just ordered the crossover blazer — in black, of course.
"Given that we are trying to rebrand the entire conversation around women in the workplace and give women, especially young women, whatever it is that they need, to have Gloria Steinem — who's the equivalent of feminism essentially — as a fan of the brand is certainly surreal," Christeson admits.
When the first woman president of these United States finally comes along, as someday she must, she could do worse than choose to wear Argent. After all, it's an American brand, founded by two women, that makes everything in New York for the kind of prices that won't cause a political scandal.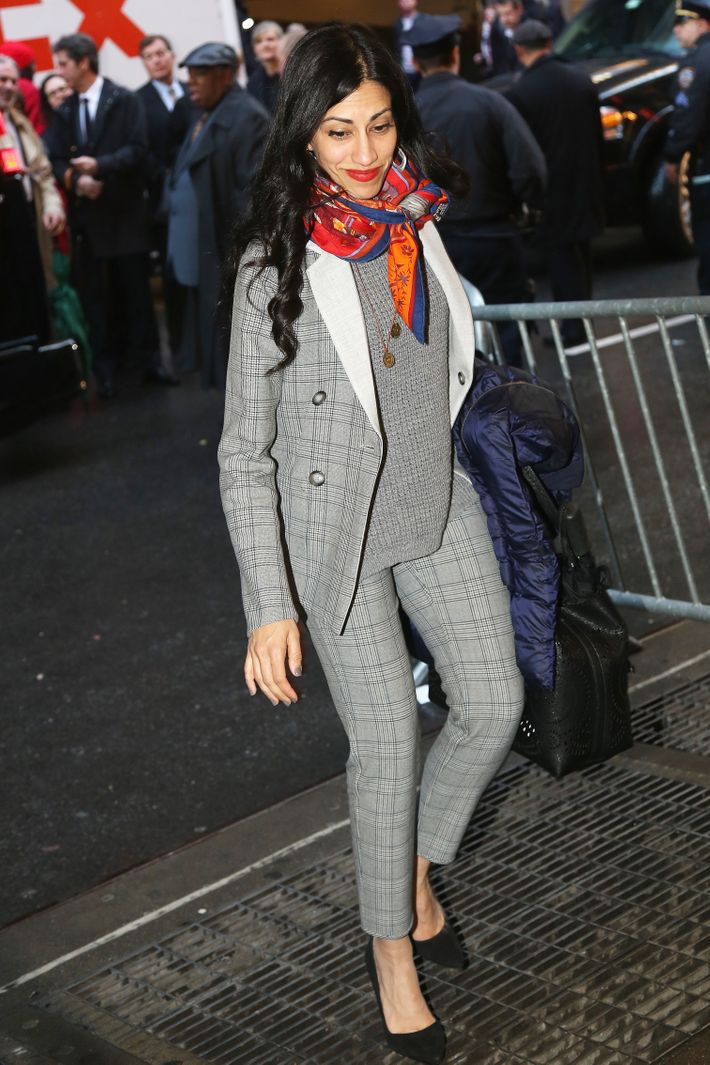 It was only two years ago that Christeson quit her job heading the Customer Advocacy team at Cisco. She was frustrated with the dearth of professional womenswear and had an idea for how to fill the void. As a business grad, though, it took numbers to convince her. "In 2014, studies were coming out showing how women are judged based on appearance, which I always knew, but they were actually quantifying the impact on your bottom line over the course of your career. That was the catalyst for me. I thought, Okay, I'm quitting. I have no idea how I'm going to do this but I'm just going to go for it."
She had met Turner, previously a designer for Tommy Hilfiger and Tory Burch, only once through a mutual friend. "She called me out of the blue and she's like hey, I want to start a work apparel company and I was like, Okay, have fun!" Turner laughs. "At the time I was working with J.Crew and I really had no interest in the category. Quite frankly it's pretty boring — pretty beige."
Turner sees the lack of interesting clothing for professional women as a symptom of a larger problem: a business world where positions of power are dominated by men. "A lot of these companies are still run by men making decisions based on things they don't have personal experience with. In fact, we were told by a big venture capitalist that utility didn't belong in women's clothing."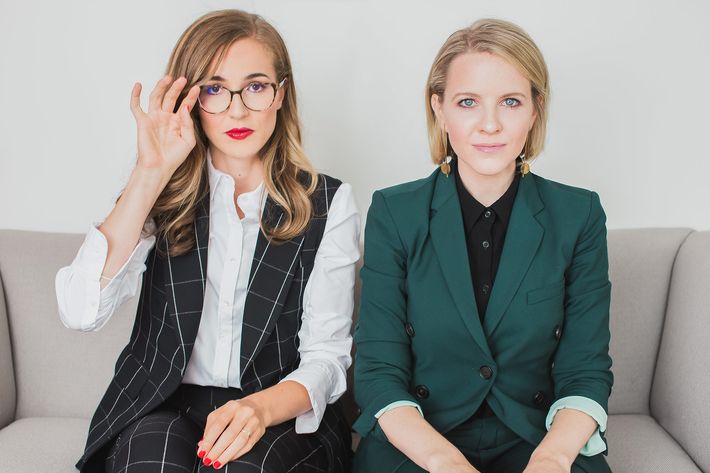 At Argent's events, the true scope of their ambition is revealed. "It's usually upwards of 200 people, men and women — we think it's important for men to be involved in the conversation. There's food, drinks and a value-added component," Christeson explains.
At one event, that was a lesson in fee negotiation. Guests could get face time with one of six executives, learn how to manage salary negotiation, and walk away with an actual planning document. Other events have included financial literacy training and personal branding, with headshots and coaches helping women optimize their LinkedIn profiles. The idea is to build a community and give it all the tools it needs to succeed — from a detailed negotiation plan to a well-cut suit for a killer interview.
Christeson named the brand after a lumber company that her great-grandfather founded in the early 1900s. But argent also means silver in French — a fitting name for a company that exists to help women succeed in the business world.