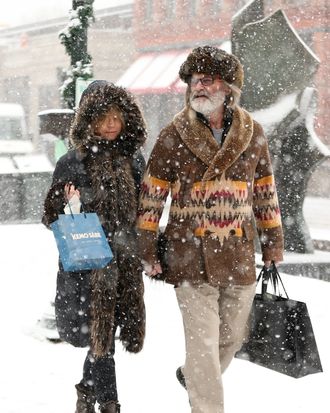 It's so nice.
Photo: XAPS/BACKGRID
It's the Friday before Christmas. If you are still working and upset about it, here is a gorgeous image to get you through the afternoon: Goldie Hawn and Kurt Russell holding hands in the snow in Aspen, Colorado. The photo was taken yesterday, while the longtime couple was out doing some holiday shopping. According to People, they "were all smiles as they went into various local stores together."
Just look at this freaking photo. Look at Goldie's fur. Look at Kurt's hat. Notice the way the snow falls perfectly around them. Drink it in. And then leave work in like, 30 minutes! Happy holiday weekend.