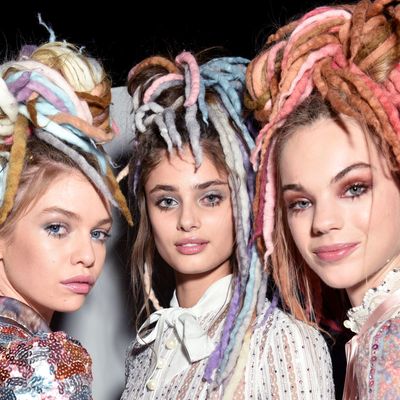 Photo: Jared Siskin/Patrick McMullan via Getty Images
Two years ago, Marc Jacobs gave all 55 of the models in his SS17 show candy-colored dreadlocks, drawing cries of appropriation from critics on social media. With Jacobs, legendary hairstylist Guido Palau (famous for doing all of the hair in George Michael's Freedom video and ushering in grunge beauty) conceived the look, turning to Etsy to source the locs. Although Jacobs was initially defensive about the controversy, he later admitted that he may have been "insensitive." Palau has worked with Jacobs for over seven years, creating some of his most iconic styles like the swan's neck updos and the "old-lady" wigs, and the FW17 season, for which Jacobs hip hop–inspired collection had individual beauty looks for each model.
Recently, the Cut caught up with Palau, Redken's Creative Consultant, to talk to him about pushing the standards of beauty, individuality, but also to get his take on what he's learned since the dreadlocks.
Some time has passed now. Looking back, were you surprised by the reaction to the hair look you created for Marc Jacobs?
Looking back, I'm not actually surprised. At the time, I was a little bit. I walked out of the show. There were three people that I knew that worked for a magazine. Normally, they're like, That was great. But that time, they were just like, Hi. And I thought, That's a bit funny. Maybe it was a reaction to the hair, I don't know.
Now, I would see it much differently. Maybe I was naïve. But to me, it was about style. I feel like when you're a creative person, you take style from everywhere.
Did you read the comments?
I read the comments about appropriation. You never want to upset people. That's not the idea of fashion. But I think sometimes people misread what other people are doing. But everything is out there for comment now, which is good. Everyone has a voice.
You weren't trying to do something malicious.
The style of it was rastafarian, in its purest form. It was about youth culture and youth styling. The truth of it was rastafarian, and [the rastas] had appropriated it in different ways along the decades. I appropriated it from that and not from its origins. That's not making an excuse, but that's how it came together.
When I do hair, I look at everything. I look at every nationality and style. I'm forever researching old hairstyles. It all goes into my mind. I appreciate every culture's style. Every culture and style, I aim to salute it. My intention is to celebrate how people create it. I love the way women and men look. I love how over the years and time and people, they have come to style their hair in certain ways.
Maybe sometimes I don't know the reasons why hair is styled in a particular way. Maybe that's ignorant of me. When I think about styling a woman's hair, I take a little bit from everywhere. Looking back on it, I can see why it had that reaction. Beauty and fashion is supposed to be celebratory, fun, and fantasy. I would never want to use it to discredit anyone.
Having gone through that experience, will it affect how you construct your work for the future?
I'll try to be much more aware of something that could offend someone. I would hate to do anything intentionally to hurt people. When people are looking at something in a photo, they're taking it as is. They can comment on it. Everyone has an opinion. Everyone's opinions count. Everyone should have their voice.
But I always want to push the boundaries and the idea of what is beautiful. Some of my most successful hairstyles have been pushing the idea of what is beautiful. Who is to say what is and isn't beautiful. The idea and perception of what is beautiful has always been interesting to me.
Right, like what you did with grunge.
Yes, and in the last few years, our idea of what is beautiful has become more varied and wide. Everybody has a beauty to them. There is beauty in everything — it's individual. Thank goodness we don't have those very restrictive parameters anymore where you've got to do this and wear your hair like that. We're seeing many more ideas of beauty. At one point, it wouldn't have been acceptable to see a girl with a shaved head.
It's through people who challenge the idea of beauty that it moves on. We're seeing it become more and more inclusive with different girls and girls of different sizes. All the girls aren't the same. Women have become freer in the way they express themselves. You have to be in fashion because you love women. You're celebrating them every way. I can say from my point of view that even if I do something questionable, it's always meant to be in a celebratory way. The more you can push, and open up the idea of what is beautiful is good.
This interview has been condensed and edited.