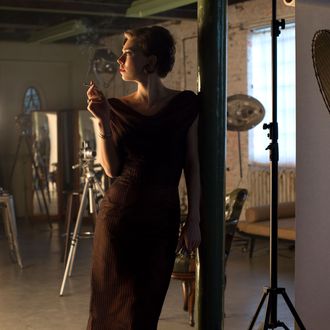 Photo: Alex Bailey / Netflix
As Meghan Markle mania has demonstrated, there's nothing people love more than a down-to-Earth princess — and like clockwork, Netflix's royal drama The Crown has swooped in to meet our needs, in the form of the fictionalized version of Queen Elizabeth's younger sister Princess Margaret (Vanessa Kirby). She's a snarky, sultry party girl who swills booze like Don Draper, smokes like Bette Davis, and, unlike everyone else on this super-chaste show, is totally down to fuck. (Okay, so she doesn't actually fuck that much, due to the creators' concerns about showing "royal boob," but she's definitely down.)
Oh Margaret, how we adore thee. Let us count the ways:
She's the family rebel …
The strained sibling relationship between Elizabeth and Margaret is some of the show's juiciest ongoing beef, with the cantankerous Margaret constantly needling her prim older sister, simultaneously envious of her power and resistant to the rules the sovereign imposes on her. If Elizabeth is the consummate royal rule-follower, Margaret is her opposite — someone who strains against the rigidity of her station, and whose sole demand, upon attending a party full of "normals," is that none of them "breeds horses, owns land, or knows my mother."
… yet she's still a fancy bitch:
That said, when Margaret attends the aforementioned normals' party, she's not exactly in her element (and the withering death-stare that she delivers to her dinner — some sort of shrimp avocado concoction that wouldn't get through the gates at Buckingham Palace — is priceless). Indeed, perhaps more so than Elizabeth, Margaret enjoys the finer things in life — the palaces, the jewels, the gowns, the deference, and all the other fancy fixings of princessdom. As Elizabeth chides her at one point: "You're the least egalitarian person I know."
She doesn't suffer fools gladly:
When her pal Billy makes a fool of himself before they're due to announce their engagement — by getting shot in a drunken duel, no less — Margaret has no qualms about calling the whole thing off. "People like you don't get to insult people like me; you get to be eternally grateful," she spits, before leaning in close and delivering a triumphant royal tirade. "Take a look at this face, a picture of disappointment and disgust. This is the look that every woman you ever know will come to share. This is what the next 40 years of your life will look like." Feel free to repurpose this speech for your own future romantic disappointments.
She gets a little sloppy:
After the Billy breakup, one of the palace servants hears a commotion upstairs and goes to check in. But all the clamoring and clanging isn't simply a loose corgi in the throne room: It's Margaret in her chambers, chain-smoking, pounding back liquor, and dancing languorously in a caftan to Ella Fitzgerald (while intermittently screaming, throwing, and breaking things). Been there!
She loves a bad boy:
After her ill-fated season one romance with Peter Townsend gets called off because he is divorced, Margaret impressively manages to find herself an even less suitable partner: Antony Armstrong-Jones (the devastatingly dashing Matthew Goode), a polyamorous, bisexual photographer who rides around on a motorcycle and constantly insults her family and title. Which, by the way, she can't get enough of. As she says to Elizabeth, with a thrill in her voice: "There's a contempt in him — for me. For us. For everything we represent … that's what's so dangerous about him."
She's perfectly petty:
Margaret may have been unlucky in love, but at least she's committed to winning her breakup: When Peter lets her know that he's getting engaged to a younger woman, she rushes to get Antony's proposal so that they can deliver their engagement announcement before Peter does. But most of her pettiness is reserved for her older sister, who she's determined to show up whenever she gets the chance. As she tells Antony, upon deciding to have their wedding at the traditional royal haunt of Westminster Abbey: "Let's make it bigger than my sister's. And let's eclipse her. Let's shake this place to its core."
She's got all the snark:
Whether its rating her fellow party-attendees ("He's a seven," she remarks drily to Antony) or doling out harsh words to various extended-family members, nobody does royal shade better than Margaret. "She'd do well to remember her place; as a low-ranking member of your husband's refugee family, she's lucky to be here at all," Margaret snaps about one distant relative, deriding another as a "cantankerous old bat."
She's delightfully coy:
Margaret, who somehow manages to make an off-the-shoulder ball gown look as sexy as lingerie, could definitely teach a flirting master class. Her tactics — a mix of fluttered eyelashes, pursed lips, wry put-downs, sultry cigarette-smoking and perfect over-the-shoulder side-eye — are legendary, causing Antony to fall quickly under her spell. And while she's equally smitten with him, she's aware of the allure of playing hard to get. "This is where the routine ends," she declares, after Antony tries to get her to sleep over. (Of course, it doesn't.)
She fucks:
In general, The Crown is pretty low on romance and sensuality: Philip and Elizabeth nearly always sleep in separate beds, and their version of flirting is a drawn-out conversation about whether or not to send their son to Eton. Thank god, then, for Margaret, whose episodes serve as a rare narrative aphrodisiac. Her courtship with Antony reads like a rom-com synopsis — from flirting in a dark room to windswept motorcycle rides across London bridges — and when they finally do hook up in Antony's dimly lit studio, it's remarkably tension-filled and titillating (even without the royal boob).
She's got a flare for drama:
When Elizabeth expresses resistance to the marriage, Margaret puts up a fight. "I will marry Tony if it's the last thing I do," she snaps back. "At the Chelsea registry office with the local drunk as witness if need be." Then she delivers something of a feminist declaration: "At long last I know who I am and what I represent. A woman in my own right. A woman for the modern age. And above all, a woman who is free, free to live, to love, and free to break away." This, Elizabeth points out, isn't exactly true, and Margaret isn't exactly a royal suffragette — she may want to marry for love, but she would never give up her title or the perks that come along with it. All the more kudos to Margaret, then, for figuring out both how to have her cake (marrying a sexy commoner!) and eat it with a silver spoon too.