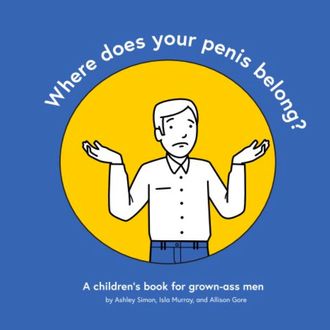 A difficult question.
Photo: Courtesy of islabell/Blurb
If the past few months have taught us anything, it's that many men are profoundly confused when it comes to where, when, and with whom they should expose their genitals. In light of this revelation (and just in time for the holidays!) Ashley Simon, Isla Murray, and Allison Gore have written a handy guide called Where does your penis belong? which they describe as a "children's book for grown ass men," because clearly when it comes to penis etiquette, we need to start at the beginning.
All profits from the book (which costs $30) will go to RAINN, the Rape, Abuse, and Incest National Network, the country's largest anti-sexual violence organization that also operates the National Sexual Assault Hotline.
If men in your life are really struggling with the appropriate time to expose themselves, though, and you can't wait for a copy of the book to arrive, wheredoesyourpenisbelong.com has an online quiz which asks men where their penis belongs on a train (in your pants), waiting in line for Dashboard Confessional tickets (in your pants), and at the office (not on the water cooler; in your pants).
Buy a copy of the book for all your penis-toting friends here, and donate directly to RAINN here.