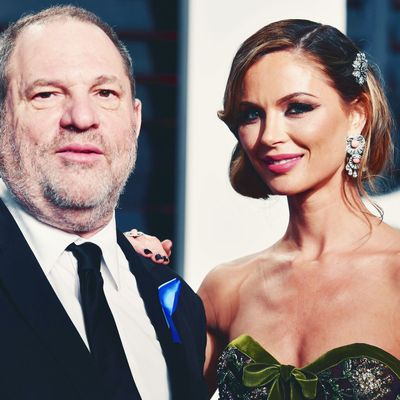 Harvey Weinstein and Georgina Chapman.
Photo: Pascal Le Segretain/Getty Images
Marchesa designer Georgina Chapman announced in October that she was leaving her husband, Harvey Weinstein, after a surge of sexual-harassment and assault allegations against the former Hollywood titan. Now, TMZ has released details from the former couple's prenuptial agreement — which reportedly could see Chapman receiving $12 million.
According to TMZ, the former couple's tenth wedding anniversary was on Friday. That occasion is quite significant for their prenup, which they signed in December 2007. Under the agreement, Chapman was to receive only $300,000 annually of spousal support for each year of marriage — but once they hit the ten-year mark, that spousal support figure jumped up to $400,000 for each year of marriage.
TMZ also notes that Chapman will get a lump sum payment of $4.75 million for her share of the Weinsteins' marital assets, in addition to a $3 million housing allowance. And so, the total amount she is expected to receive is around $11.75 million, TMZ reports.
However, while that may sound like a lot of money to the rest of us, Weinstein is reportedly worth more than $250 million, while Chapman's net worth is around $20 million. It's also worth noting that the prenup has a "gag order of sorts," according to TMZ — both parties agree not to publish diaries, letters, or photographs, or talk about the relationship in interviews.