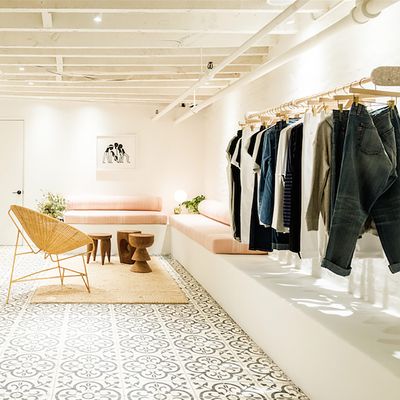 Hatch at 17 Bleeker Street.
Photo: Courtesy of HATCH Store
Hatch, the fashion and lifestyle label for cool moms and expecting moms, has quietly opened a storefront on Bleecker Street in New York. The brand, which sells everything from chic jumpsuits to monthly flash tattoos for your belly, worked with the interior designers of noted cool space The Wing to create the shop.
"This first HATCH shop will enable us to bring our community of strong, excited and collaborative women together for events and experiences to celebrate motherhood and effortless lifestyle — far beyond what our website can offer," founder Ariane Goldman said in a statement.
In addition to its collection, the store also features a shoppable bathroom, an apothecary, seminars on subjects like nutrition for fertility and infant CPR, and prenatal yoga classes. Basically everything you could want — mind, clothing, and spirit — for any stage of motherhood. Visit it now at 17 Bleecker Street in New York City.