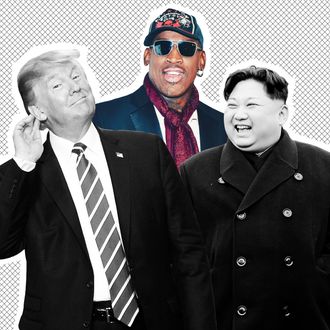 The Three Wise Men.
Photo: Getty Images
Just in time for last-minute holiday shopping, former NBA star Dennis Rodman designed a batshit crazy collage of flaming basketballs, festive Christmas decor, Donald Trump, Kim Jong-un, and himself, and slapped it on some merch. For the reasonable price of $65, you can buy a truly ugly Christmas sweater, with proceeds going toward the Wounded Warrior Project. What?
As The Hill reports, Rodman has gone to North Korea to visit Kim more than once, and on one occasion brought the North Korean leader a copy of Trump's book The Art of the Deal, which is full of wise mantras like "maximize your options" and "think big."
While the dotard and Little Rocket Man have not been the closest of friends, Rodman told AFP that he thinks they're "pretty much the same people" because they both "love control." The former NBA star has also offered to orchestrate a meeting between the two, which is represented by his positioning between them on the sweater, while they all cuddle above the word UNITE.
Something tells me a festive ugly sweater isn't quite up to the task of negotiating world peace.