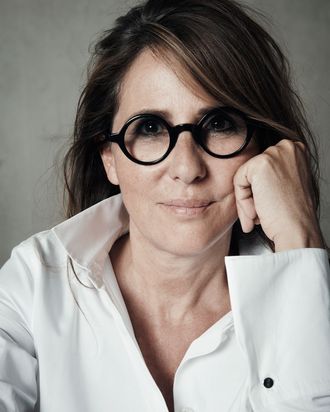 Christine Nagel.
Photo: Sofia Sanchez & Mauro Mongiello
Hermès head perfumer Christine Nagel used to be embarrassed about her nose — she thought it was too large for her face. Growing up in Geneva, "it was a complex for me," she says. Today, as the creator of luxury scents such as the new Twilly d'Hermès, that childhood insecurity has become Nagel's greatest asset.
Early in her career, she dreamed of being a Nobel Prize–winning chemist and studied chemistry before going to work for Geneva's fragrance giant Firmenich, in the research department. A poetic moment during her time there changed her life's trajectory. "One day, through a window in my lab, I saw one perfumer smelling perfume with a lady. When I think of her — this lady and the pleasure I saw in her face upon smelling the scent — I decided, 'Okay, this is my future job.' But it was very difficult because the path is impossible for a woman. It's a man's job, and I don't come from the south of France, from Grasse; I had children, I'm not the daughter of a perfumer."
When she asked for a job in Firmenich's parfumerie, the response was a hard no. So she moved into chromatography instead, decoding fragrances and their ingredients on a molecular level. Next, she moved to Italy to try her luck as a perfumer there. Within a year, Nagel's clients included Fendi and Versace, and she held 60 percent of Italy's perfume contracts.
Once she established her authority in the industry (by creating iconic scents like Narciso Rodriguez for Her and Miss Dior Chérie), Nagel caught the attention of Hermès's artistic director Pierre-Alexis Dumas, CEO of Parfums Catherine Fulconis, and longtime nose Jean-Claude Ellena, who welcomed Nagel into his studio in 2014. The duo worked side-by-side for two years until Ellena retired, naming Nagel the new head perfumer of Hermès and the first woman to ever hold the position. Nagel's popular creations for the brand have included Eau des Merveilles Bleue (2017), Eau de Rhubarbe Ecarlate (2016), and Galop d'Hermès (2016), as well as the new Twilly d'Hermès, a youthful ginger, tuberose, and sandalwood-infused elixir that debuted last summer.
Below, Nagel spoke to the Cut about her favorite Swiss chocolate, lip-balm hack, and growing into that defining feature, her nose. Read on for the full interview.
How do you thank people for a gift?
Flowers. I prepare a special bouquet with a lot of magnolia leaves. I also love autumn leaves because of the color. I prefer to make them with artichoke flowers. It's so nice.
Color or no color on your nails?
No color on my nails, but sometimes I do the semipermanent. It's more easy for me, because with a normal nail color I don't really know how to put it on. When I do the semipermanent I love to use neutral colors.
What are some of your favorite coffee-table books?
The problem is all my books are on my iPad, my iBooks. But there are four favorite books I have in my office. One is from the FIAC art fair in Paris. Another is Karl Lagerfeld, and then a photography book of flowers called Masterworks by Karl Blossfeldt. I love this book. Another one is from the Margiela and Hermes exhibition in Antwerp, telling the story behind the show.
Heels or flats?
Le deux. It depends. I love heels, but my feet hurt. And then I cannot work anymore. I walk like a duck. My favorites are both Hermès boots, one with heels, one flat.
What would you never wear?
Baseball caps. Caps, no, no.
What is a trend that you like right now?
I don't like talking about trends, but at the moment I like that ginger hair is trending.
What's your favorite song on your playlist right now?
In this moment, it's "Human" by Rag'n'Bone Man.
If you were a car, what kind of car would you be?
A French car. The name is Citroën Mehari. It's very open and it is orange. It's a car for the summer, which is why I love it. It's symbolic of freedom, and it's not pretentious.
No-makeup makeup, or actually wear no makeup?
A little makeup, but when I have a makeup for the eyes, I don't have too much lipstick, and when I have lipstick I don't have too much for the eyes. My favorite lipstick is red from Armani.
What's another decade you'd like to live in and why?
Mine, now. This decade has its own great things, and I'm really happy like this.
What's the secret to throwing a good party?
Friends, good food, and French wine — and I am not French!
What's one way that your tastes have changed since you were a teenager and one way that they've stayed the same?
My nose has stopped growing. So my nose has not changed but the way I view it has. When you are young, you get criticism about your physical appearance, for example, your nose. It's terrible when you're 10 years or 20 years old, and it was a complex, and now I feel good about my nose. My face grew and my nose stopped growing. My face is more harmonious than when I was young. Sometimes when you're young, your ears are too big or your nose. It's funny for me, because when I'm young, my nose is a complex, but now my nose is not a complex.
What's the last TV show that you binge-watched?
I don't really watch shows. But I travel a lot, and I can't stop myself from watching movies on the plane. I recently rewatched the old movie Indochine with Catherine Deneuve.
What's your favorite pair of jeans?
Jacob Cohen and J Brand. Straight cut.
T-shirt?
My favorite T-shirt is an old T-shirt from Acne. It was black, but now it's gray, but I love it, because it's so comfortable.
Pajamas?
I never use pajamas. No pajamas.
Flower?
I love all the flowers. It really depends the moment; the season. But maybe the cactus flower is my favorite.
Chocolate?
The Swiss chocolate, of course, because I'm born with the Swiss chocolate! Toblerone.
Perfume?
My favorite perfume is always the next perfume, but if you would like a brand, my favorite perfume is Bois des Iles from Chanel. I don't know why, just that I love it.
Sheets?
I like when they're really old, because they're softer and more flexible. I don't have a favorite brand but I love curry color.
Lip balm?
It's a Korean lip balm. The name is Laneige. Normally it's a mask for the night, but I use it as a lip balm for day.
Candle?
It's one from Hermès. The name is Nuit du Solstice. It's the last one to come out from Hermès.
If you buy something through our links, New York may earn an affiliate commission.