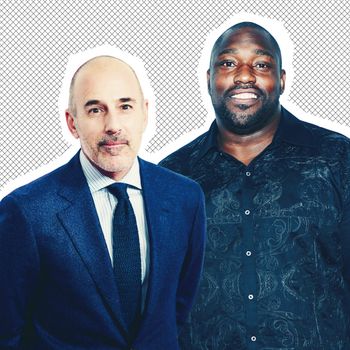 Matt Lauer and Warren Sapp (bought vibrators for co-workers.)
Photo: Getty Images
Admittedly, buying gifts for your co-workers can be tricky (How much do you spend? What if they get you a present and you didn't get them one?) but here's one tip: Don't give them a freakin' sex toy, ya creep!
Last month, in its bombshell story on the allegations of sexual misconduct against Matt Lauer, Variety reported that the former Today show host once gave a female employee a sex toy as a gift, along with explicit instructions on how to use it. No thanks!
Most recently, NFL Hall of Famer Warren Sapp has been named in a wrongful termination suit against the NFL Network by a woman who claims, among other things, that he gave her sex toys as Christmas presents three years in a row.
On Wednesday, Sapp defended himself by saying the sex toys "weren't about sex" and tweeting four pictures of a lipstick-shaped vibrator he said he thought was "cute," and simply couldn't believe anyone would find sexual.
It's unclear whether the lipstick vibrator is the same one he offered to his co-workers, but it is clear that you shouldn't give any sex toy, of any shape, to your colleagues, no matter how "cute" they are. Maybe just stick to succulents instead.