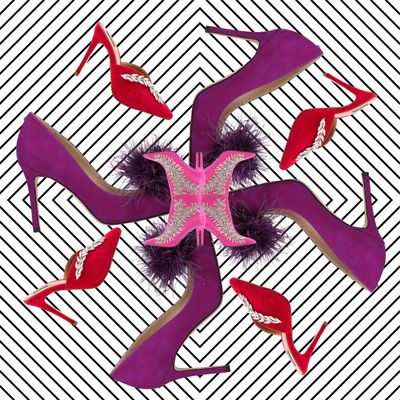 The holiday party season is the one time of year when it's practically mandatory to get a little crazy with your clothes. If sequins or gigantic earrings aren't your style, why not try a fun pair of heels? Whether you want to extend the sparkle all the way down to your toes or add some fluff to your outfit, you don't need to spend a ton on fancy-looking shoes. We found the best pairs for under $200 — and, in some cases, for even less. Scroll ahead to shop our favorites.
Photo: afront
In shades like black, gray, and millenial pink, these fluffy sandals not only look good, they also have a very manageable 3" heel.
When You Really Love Christmas
Can't get any more festive than giant bows on your feet.
Chunky block heels are thankfully very much in style right now, and the rhinestones make them feel extra-special.
The Ones You'll Wear Year Round
Photo: 17-11-03 Accessories AM1 B9 raypfeiffer W
Shiny silver with a tinsel-like detail on the heel looks appropriate for January or July.
If You're Not Into Glitter
Fluffy pom-poms on your toes are just as striking.
Photo: afront
Can't justify nearly $1,000 for designer heels? Here's a version that's a fraction of the cost.
Hot pink rhinestone ankle boots aren't for everyone, but that's precisely the point. Treat them like the star of the show and keep your pants simple and skinny.
If You Like a Subtle Sparkle
Photo: 17-09-19 Accessories PM1 B9 chelseaprice W
Gold-and-black sequins mixed together will shine just as merrily in your Kira Kira app, but you won't feel too glaringly bright.
The Luxurious-Looking Pair
Photo: afront
The easiest way to fool someone into thinking your shoes cost a ton? Rich fabrics in lush tones like this navy velvet.
Because Your Shoes Are the Star of Your Outfit
Photo: REVOLVE STILLS #1
Cherry red topped off with a dramatic rhinestone detail make this the ultimate statement shoe.
Photo: REVOLVE STILLS #2
When all you wear is head-to-toe black, emerald green is as flashy as you'll get.
Because You Love a Weird Heel
While it might not be as kooky as an elephant, this sculptural marble shape is just different enough to set it apart from your other sandals.
Each product featured is independently selected, but may include paid promotion or additional compensation from our partners.