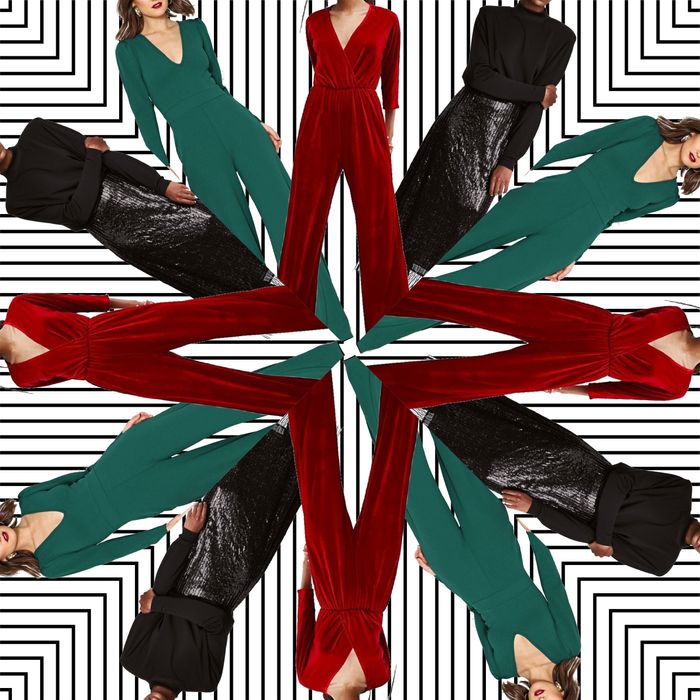 It's happened to me more times than I can count: My friends and I are getting ready to go to a party. They're all wearing short skirts or thin tops, so I go along with the crowd. And then, of course, when we get to the party, I'm freezing for the rest of the night. Perhaps you can relate.
This year, I'm taking a stand against cold. There are plenty of cute clothes out there that feel festive but won't leave me shivering all evening. Some of them even include — yes! — long sleeves. Scroll ahead for my favorite picks, all $100 and under.
Nothing says 'festive' like a gold top with a deep v-neck. Just add jeans and boots and you're ready to go.
It's long-sleeved, red, velvet, and under $70. What more do you need?
Similar to the one above, but the legs are a lot wider and the shoulders have padding for extra drama.
A Skirt With Sequins and Fringe
Most sequin skirts are tiny, but this one hits your calves.
Stay in the spotlight all night long.
A Thick, Gem-Toned Blazer
The deep teal shade is so pretty.
Is it subtle? Not quite. Is it easy to style? Very. Just pair with black pants and a black sweater.
If you buy something through our links, New York may earn an affiliate commission.