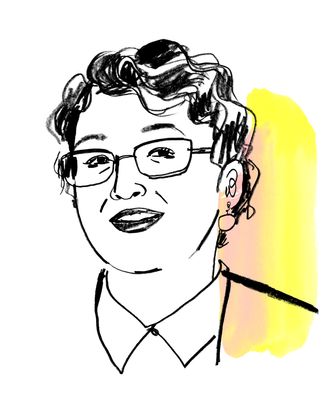 Illustration: Lauren Tamaki
Alina Roytberg is the co-founder of natural-beauty brand Fresh. Over the last 26 years, she and business partner Lev Glazman have grown the company from a Boston apothecary into a product empire owned by LVMH. Roytberg oversees the creative vision and global strategy of the company, flying between her home in Boston and the Fresh headquarters in New York several times each week. She travels internationally almost every month, often takes conference calls at 10 p.m., and knows all 75 corporate team members by name. Here's how she gets it all done.
On commuting by plane:
I have to get up at 6 in the morning, walk my dog, quickly get myself together, and go. I have every minute calculated. If my flight is at 8 a.m., I can leave my house at 7 a.m., and be at the airport and parked by 7:30 a.m. I have Global Entry, so I am a known traveler. They keep the shuttle gate open up until ten minutes before the hour. When something is off, that's when it's stressful. If something happens, I don't have a lot of time.
If it's just one day of meetings, I'll do a round-trip, but if I have meetings for two days in a row, I stay over in the apartment I rent. On my iPhone, I have a wardrobe list for my New York apartment, so I can keep track of what's there in terms of clothing, accessories, and shoes. I love traveling without suitcases — that's why I call it a commute.
On mornings in Boston:
I get up at 8 a.m. and take my dog out. Usually, I drink a little water with lemon and take all of my nutrients and supplements. I try to go to the Pilates studio two to three times a week. I don't eat breakfast until after the class, and while I do, I'll check videos, check on influencers, look at some news on my phone, and take 10 to 15 minutes to see what is going on in the world. I glance quickly at my phone before I take a shower, not to actually respond to emails, but just to see if I need to think about something while I'm in the shower.
On her beauty regime:
I wash my face with our Soy face cleanser, and I usually do an exfoliant like Umbrian Clay or the Face Polish while I'm washing my hair. When I get out of the shower, I use a little bit of body oil instead of a moisturizer — it's faster. I comb my hair out and use a tiny bit of pomade. I don't blow-dry my hair, so while it's drying, I have my espresso and finish my skin care.
I'll do an Essence or an Infusion, depending on the time of year, then I put on my eye cream — Crème Ancienne, of course. That's my Holy Grail. And sometimes, if I didn't get enough sleep, I will put a little of the Lotus eye gel underneath to constrict the vessels. For moisturizer, Elixir Ancien or Seaberry oil. And then I do SPF as the top layer. If I'm doing makeup, it's really simple. I do a very light smoky eye shadow and mascara. I use foundation to even a few areas of my skin on my chin or between my eyebrows, and that's it.
On her current role at Fresh:
I'm not involved in day-to-day operations of our company. We have great people to do that. The role of a founder, besides being the gatekeeper of the brand, is about articulating ideas to people who will run with them. We have a creative director at the company now, so I work very closely with her on top ideas and projects. My role is, a lot of times, to try to move us in a certain direction. But what I enjoy the most, and I think I always have, is a creative debate. That's where the best things come from.
On work habits:
When you work from home, it's very difficult to get out of your own comfort zone. I don't sit at my desk continuously. Usually, during conference calls, I get up and walk around my apartment with my headphones on. If I'm just listening in on a call, I can put my phone on speaker and mute myself and do some other tasks.
I like to create lists of all the things I have to take care of on that day — not just work. There is something very satisfactory about crossing off tasks.
On work spaces:
I've turned my den into my office. I have everything that I need here. I have a very large desk — a six-and-a-half-foot table — with my mid-century lamp and my Mac. I have a skylight; daylight is really nice for seeing everything in the right light when it comes to color. I have a bookcase with my folders and pencils, books, inspiration boxes, and a printer. I have a mid-century credenza that holds a lot of files. I like to keep things organized by the subject or theme.
It's different from the New York office. Lev [Glazman, Fresh's co-founder] and I share space in our New York office. We have pinboard walls all around and we pin up inspiration, and I put archival images on those walls. People are invited in; it's an open-door office. If I'm not there and someone needs to get inspired by an archive, they can do it.
On managing her calendar:
Lev and I have an assistant in the New York office keeping the schedule for meetings in order to make that time very, very efficient. When I'm in New York, it's nice because I've seen my calendar in advance, so I know what's going on. I'm definitely not somebody who can just walk in without knowing what's going to happen and just be prepped. I like to think about it in advance.
On travel:
The job has a lot more travel than it used to. I go on press trips to amazing destinations where we source our ingredients, visit new markets, and travel to the laboratories where we work on development. And then, of course, I visit stores in North America. I have breakfasts with teams in stores and with Sephora employees. It's a great way to connect with the people who speak about your brand every day. I keep my trips very short. If a trip doesn't have to be more than two days, I will not do it for more than two days. If I go to Asia, I try to keep it to two weeks.
Her advice for those who dream of breaking into beauty: 
You can't just do it for money. That's not enough. If you have an idea and you are passionate enough about it, yeah, go for it. I also recommend to people, if they can, to have a partner. In general, it's hard to create an idea and work on it by yourself. You need somebody to give you that support from time to time, to allow you that weak moment, because you can't always be strong.
On stress:
I used to have a really bad habit of smoking. I was in New York in the '80s — smoking was like drinking coffee at the time. Unfortunately for me, I got addicted. I quit smoking two weeks before we opened the first store in 1990, and I did not smoke for 14 years. And then ten years ago, my mother passed away and I needed it as a crutch. I said, Well, I'll take a year off from being a nonsmoker, and unfortunately, that lasted a lot more years. I quit two years ago completely. But as with any addiction, it was very difficult to shake.
Now, I find that doodling during intense meetings works. When I'm in Boston, I have a coloring app on my phone that's really fun. It's called Coloring Book. I am very stimulated by color. It's such a stress release.
On the end of the workday:
When I'm working from home, I don't really wind down. If I have a conference call with China, for example, their morning is our evening, so it could be at 10 o'clock at night. I'm not a hard-stop person. I don't hold the phone in my hand, but I do recheck it because I want to make sure there isn't something I need to respond to.
It's really different when I'm in the office. Winding down is actually quite stressful because I have to run outside and catch a car, and then be in traffic and be stressed until I get on the plane. That's definitely not a great end to the day because I can never relax. I bring WWD and magazines with me, or a couple editions of the Sunday Times, for distraction. But in general, I don't wind down until I step into my home. Sometimes it could be 8 or 9 p.m., sometimes it could be later. Maybe that's also why I don't go to sleep early, because I feel like I need some personal time.
On sleep:
I love sleeping. I wish I could sleep more. But usually, I sleep five to six hours. Life just interferes.