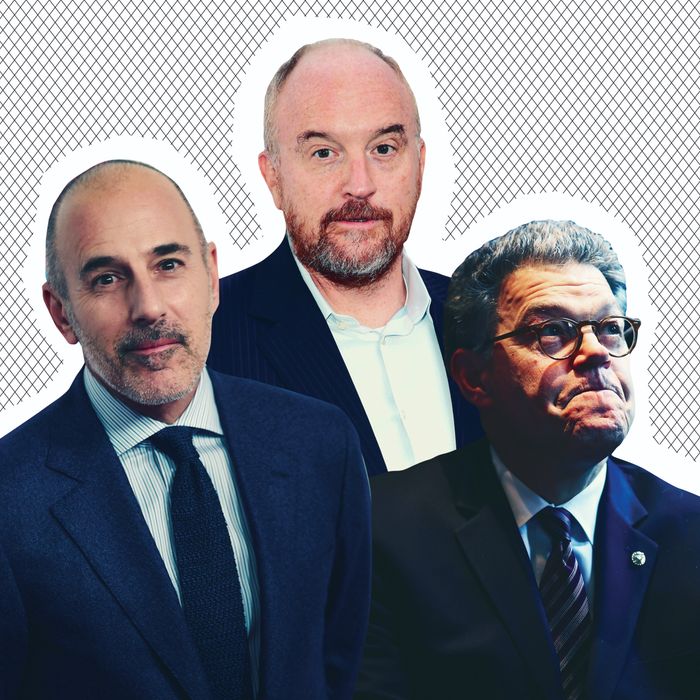 Matt Lauer, Louis C.K., Al Franken.
Photo: Getty Images
Thursday morning, the day after he was fired from NBC and accused of sexual assault by multiple women, longtime Today show host Matt Lauer issued an apology statement, which his now former co-host Savannah Guthrie read on air:
There are no words to express my sorrow and regret for the pain I have caused others by words and actions. To the people I have hurt, I am truly sorry. As I am writing this I realize the depth of the damage and disappointment I have left behind at home and at NBC. Some of what is being said about me is untrue or mis-characterized, but there is enough truth in these stories to make me feel embarrassed and ashamed. I regret that my shame is now shared by the people I cherish dearly."
Lauer's is the latest in an exhausting series of apologies issued by powerful men following allegations of sexual misconduct against them, none of which are especially good, and many of which are infuriatingly bad. In one of the worst, Garrison Keillor, the former host of the radio variety show A Prairie Home Companion, called the accusations against him "poetic irony of a high order" because "If I had a dollar for every woman who asked to take a selfie with me and who slipped an arm around me and let it drift down below the beltline, I'd have at least a hundred dollars." Louis C.K. wrote over 400 words, none of which were "sorry."
If it sounds like there's no winning for the men writing these apologies, it's because there isn't. There's no such thing as a "good" apology for sexual assault, but there sure as hell are bad ones. Here are some ways not to apologize.
Don't say you don't remember.
After Leeann Tweeden accused him of groping her during a USO tour in 2006, Al Franken told reporters: "I certainly don't remember the rehearsal for the skit in the same way, but I send my sincerest apologies to Leeann." After he was accused of assaulting a teenager when he was in his 20s, Kevin Spacey wrote: "I honestly do not remember the encounter, it would have been over 30 years ago."
To not remember is a luxury, one that is not afforded to most victims of assault. Saying you don't remember can not only sound like a denial, or like you're trivializing a survivor's experience, it suggests you've behaved inappropriately so often that you can't keep track of every person you've groped, harassed, or worse.
Don't tell us how you're doing.
Kevin Spacey was recently photographed jogging around his $36,000/month sex rehab clinic in Arizona; Forbes estimated Louis C.K.'s net worth at around $52 million; Matt Lauer's salary was reportedly $25 million a year. And gargantuan sums of money aside, we live in a society that has long protected powerful men from being held accountable for their actions, and punished those who dare to speak out against them.
So, we know how you're doing. You're fine.
Don't tell us how much you've learned.
"I have learned a great deal as a result of these events, and I hope others will too," Charlie Rose said in a statement to the Washington Post, after eight women accused him of unwelcome sexual advances, including walking around naked in front of them and making lewd phone calls. "My journey now will be to learn about myself and conquer my demons," Harvey Weinstein wrote in his apology for the New York Times.
The fact that Weinstein had an "army of spies" working to suppress the allegations against him suggests that he had an inkling he was doing something wrong. "Learning" is more impressive when it's not just inspired by getting caught.
Don't expect immediate redemption.
It's easy to issue an apology. It's harder to implement change. In the coming months and years, these men will be judged not on their statements of regret, but on the actions they took, or did not take, to undo the damage they did and to change the society from which they profited.
Or, at the very least, maybe they'll just be quiet for a little while.