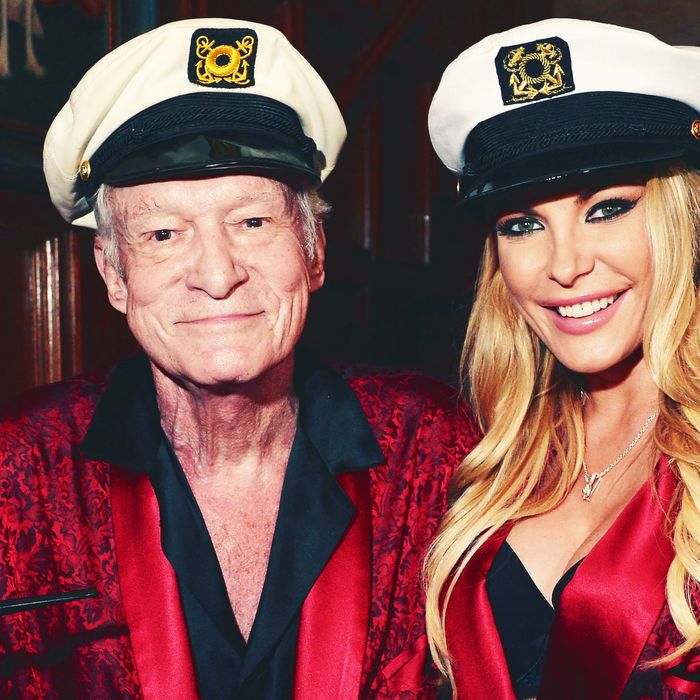 Hugh and Crystal Hefner.
Photo: Charley Gallay/Getty Images for Playboy
Playboy founder Hugh Hefner left his beneficiaries with one explicit requirement: Stay away from drugs and alcohol. According to documents obtained by Entertainment Tonight, Hefner wrote in his will that if his surviving family members want to remain in his trust, they have to stay clean.
According to the documents, Hefner's beneficiaries include his children — Christie, David, Marston, and Cooper — and his widow, Crystal. If the trustees of the inheritance believe any of the heirs are violating the terms, they can request a drug test or remove funds. However, Hugh apparently believed in second chances, as the documents state that any beneficiary who violates the terms can once again receive funds if they're clean for 12 months.
The trust reads:
If the trustees reasonably believe that a beneficiary of any trust routinely or frequently uses or consumes any illegal substance so as to be physically or psychologically dependent upon that substance, or is clinically dependent upon the use or consumption of alcohol or any other legal drug or chemical substance that is not prescribed by a board certified medical doctor or psychiatrist in a current program of treatment supervised by such doctor or psychiatrist, and if the Trustees reasonably believe that as a result the beneficiary is unable to care for himself or herself, or is unable to manage his or her financial affairs, all mandatory distributions to the beneficiary, all the beneficiary's withdrawal rights, and all of the beneficiary's rights to participate in decisions concerning the removal and appointment of Trustees will be suspended.
Wonder how strictly this requirement will be enforced, given that the woman he appointed to be first trustee died in 2013, and two of the co-trustees in charge of watching over the beneficiaries are Marston and Cooper, two beneficiaries themselves.