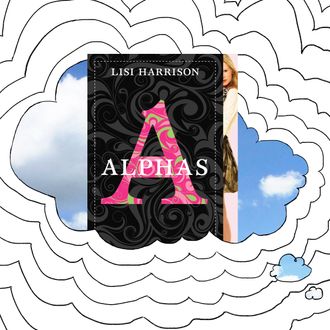 I Think About This a Lot is a series dedicated to private memes: images, videos, and other random trivia we are doomed to play forever on loop in our minds.
If you were a middle school girl in the mid-aughts, odds are you know about the Clique books by Lisi Harrison. But you may not remember the intense, Hunger Games–style spinoff: Alphas.
For those unfamiliar, the central character in The Clique, Massie Block, ruled her Octavian Country Day school with her four best friends (or betas, as she so kindly referred to them) by her side. It was essentially the PG version of Gossip Girl. As The Clique was winding down, Harrison created Alphas, in which Skye Hamilton, the "alpha" a year above Massie, was the protagonist. In this series, she is whisked away from her home in Westchester, New York to a private @-shaped island in the middle of the Mojave Desert created and run by a woman named Shira Brazille. Shira was an eccentric Australian billionaire who wanted to cultivate the next generation of Alpha females. Suddenly, classic middle-school drama had a sci-fi, Survivor bent to it. I may not have identified with Massie, but as a tween overachiever (or at least a tween very interested in over-achieving) I was grimly fascinated by the terrifying boarding school where Shira would one-by-one publicly expel the girls until one true alpha remained.
Shira embodied a mix between Oprah, Sheryl Sandberg, and Emily Weiss: She had a talk show, hosted "Female Empowerment Workshops," and ran a cosmetics line. (The book never really explained how she made her fortune.) Shira also owned an Australia-shaped desk, and named her five sons Sydney, Melbourne, Taz, Dingo, and Darwin. One hundred girls were chosen to attend her academy from the United States, ranging from elusive songwriters to tween National Geographic journalists. Skye, selected for her prowess as a ballerina, quickly learned that she was a small fish in a big, @-shaped pond. The plot focused on how the girls would balance their rigorous schedules with their desire to date one of the Brazille boys. And honestly, that is much less interesting than the other trappings of the book, so I'm not going to begin to explain who got which boy.
The academy was fabulous but evil, to steal a line from Mean Girls. It had its own biosphere designed by Shira's labs, uniforms that automatically gained or lost sleeves based on the temperature, and private planes for the girls to peruse. Skye and the other dancers practiced for nine hours a day in a glass studio that everyone else on campus could see into. The journalism majors had a fake tornado and hurricane studio to practice reporting from disaster zones. The writers had to deal with the torture of watching their stories play out in animated graphics in front of them. Classes included "The Art of Excellence: Learn social protocols, style tips, and conversation topics that will distinguish you from the mainlanders" and a daily motivational lecture with the disclaimer "Note: your true self must be found by the end of the semester." And Shira greeted applicants with the message: "A true alpha is more than a resumé … she is a machine with a heart."
Overwhelming late capitalist undertones aside, I tried hard to be worthy of this fictional school. I became fascinated with its intensity and rigor, in the same way that other teens and tweens fantasized about getting into Harvard or Yale.
If there was a genuine upside to these books, it was that they created a world that I could seemingly see myself fitting into, in the same way that Harry Potter stans sort themselves into houses. I loved the school because I felt like it was a place that I — a nerd who was also obsessed with bright, shiny things — could actually belong in some way. I liked reading about exceptional women, and I still do. Even today, it's fun to imagine power players and celebrities involved in a fierce competition where they hone their individual crafts on an island. (Hey, Bravo — I'd watch that show.)
I had to reread one of the books as "research" for this piece and was mildly horrified by the things I forgot, like all the Kevin Federline references. But I never fully stopped thinking about it over the years: Alphas has long been an invisible, fantastical motivating force for me. "At least you're not in a tornado machine" I told myself on my first day of my college journalism classes. Or, "If they were expelling students one by one … when would I be cut?" I was constantly bombarded with the idea of what a perfect woman should be, but I clung to this sci-fi edition as my personal standard. It was so bizarre, implausible, and just impossible for various environmental factors — and I could do it, if it were real! It was an invisible — and useless — ideal to hold myself up to. Which was perfect because I would never be asked to prove it.
Now, I'm professionally introduced to classic adult Alphas — celebrities and multi-hyphenates. Sure, that's cool, but would they survive at Alpha Academy? Because I've been mentally preparing for years.