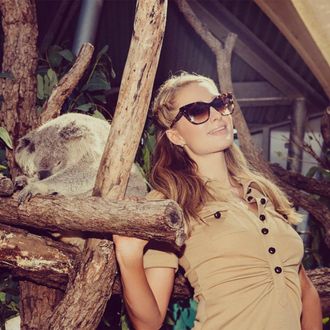 A koala bear suffers through a photo shoot with Paris Hilton in Australia.
Photo: ParisHilton/Instagram
Instagram has decided to get serious about the power and reach of its platform: According to National Geographic, they are finally cracking down on the captive-animal selfie.
Instagram's announcement follows a report in National Geographic about the dangers of animal tourism in the Amazon. There have also been concerns that wildlife selfies on Instagram can fuel the illegal trade of animal parts, such as carved ivory. (This summer, Tinder finally banned the Tiger Selfie after similar pleas from PETA.)
Now, anyone posting or searching for or clicking on #koalaselfie, #lionselfie, #koalahugs, or #tigerpet will get a pop-up alert with the message:
"You are searching for a hashtag that may be associated with posts that encourage harmful behavior to animals or the environment."
Instagram told National Geographic they have been working on the messages for months with the help of animal-advocacy groups. But the news comes just days after Paris Hilton posted shots of herself canoodling with a koala at Sydney's Taronga Zoo.
Many of Hilton's shots were captioned #KoalaLand, #KoalaKisses, and #KoalaLife, and seem to come from an extended photo and video shoot.
Of course, wildlife advocates are fine with it if animals want to take their own selfies; they're just trying to spare them from humans.