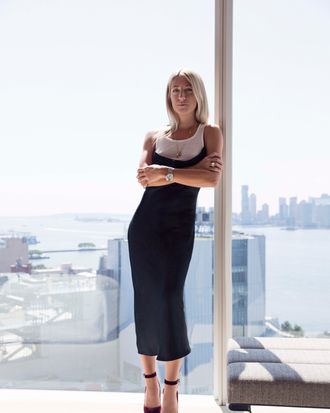 Photo: Victoria Stevens. Produced by Biel Parklee.
In Her Shoes is a column about what real women wear when they need to get things done.
Imagine being the person at the door for the Met Gala's after-party who has to turn away A-list celebrities because the venue is at capacity. Caitlin McConnell doesn't have to imagine that petrifying scenario; she's lived it as the marketing director for the Standard's New York hotels. When she's not overseeing the most star-packed party of the year, McConnell works on everything from the Standard's artist collaborations to political initiatives like Ring Your Rep, a recent project that helps hotel guests get in touch with members of Congress.
McConnell took a circuitous route to her current job. After studying biology at Florida State, she decided the field wasn't for her and moved to New York to try fashion. She got her first job in design for Libertine, then worked in production for the lingerie brand Araks. The Standard eventually came calling and she's been there for over three years. Below, she talks to the Cut about running around the city for appointments, what she wears on the biggest night of the year, and what makes a uniform for someone in her role.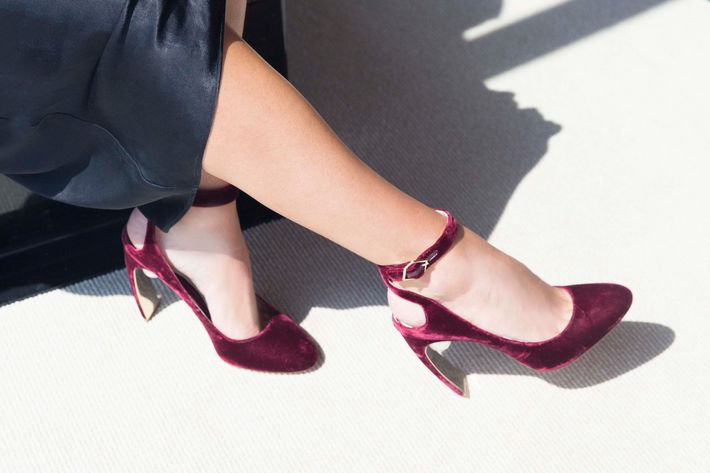 On her Met Gala looks: I'm working, not partying, so I have to figure out a gown you can actually run around in. This year I chose a long-sleeved, black, backless Galvan gown. I broke my toe two days before, so that threw a real curveball into getting dressed. Since I couldn't stand in heels, I added Nike Cortez sneakers.
But my favorite memory was from two years ago: We were shooting a video with Pat McGrath. She asked if I wanted her to do my makeup and I obviously said yes.
On her big meeting outfits: A meeting for me can be a lot of things — it could be with a museum, a celebrity, or my team. That's a broad range of looks to cover! I wear pants to work 90 percent of the time, so a cool pair of wide-legged trousers with a vintage tee and a great shoe are my typical choice.
On her pared-down desk-shoe philosophy: When I leave my apartment in the morning, I believe in the full look. People see you on the street and the train, so I don't want to save my good outfit for just the office. For the sake of emergencies, I keep a pair of shoes at my desk in case I really need to change and throw on heels quickly. My choice is these simple black Alexander Wang two-strap heels that go with anything.
On her consistent style in and out of the office: My work clothes are similar to my off-duty looks because I'm lucky to work at a place that is all about individuality — it's not really a corporate culture. After hours, I might be more casual and street-influenced. I like a high-low layering — I'll wear a sexier dress (probably Alexander Wang) but throw it over a Hanes tank top with Nike sneakers. Or I'll wear a Supreme jersey with 3.1 Phillip Lim trousers and my vintage clear Barbie shoes.
On her favorite commuting shoes: I like to mix up my footwear and often select what I'm wearing based on whether I'm riding my bike that day. The ones I get the most use out of are my Alexander Wang Cora boots, Acne Studios Telde boot, and classic white low-top Air Force 1s.
On her image: I spend most of my day in a combination of internal and client meetings. A lot of times, I'm showing the hotel to people (photo-shoot clients, potential partners for events) so I'm running all over the building. Since I do the marketing for both New York hotels, I bounce back and forth across town. I definitely dress for myself because my outfits are an extension of my personality. I try to be authentic. Hopefully, my colleagues and clients see me and think, That girl seems cool — ha!
If you buy something through our links, New York may earn an affiliate commission.
Production Credits:
Photos by Victoria Stevens
Sittings Editor: Diana Tsui
Produced by Biel Parklee