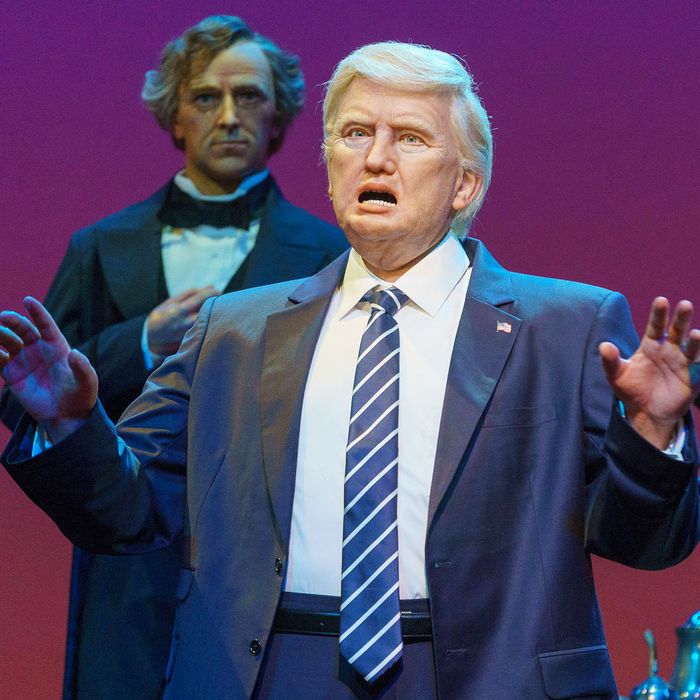 A great orator.
Photo: WDWMAGIC
Lately, President Trump has, uh, struggled with his speeches. Earlier this month, he slurred the phrase "God bless the United States," and during a national-security address yesterday, he paused to use both hands to lift a cup of water to his mouth in a manner strangely reminiscent of a sneaky, dexterous, trash-diving animal. But now, there is a new Trump, one who speaks clearly, authoritatively, and is never overwhelmed by a case of the thirsties — I'm talking about the animatronic Trump in Disney World's Hall of Presidents.
Though Trump's inclusion in the Hall of President's was not without controversy (a Change.org petition was launched to prevent him from having a speaking part in the program, and received over 15,000 signatures), Disney moved forward with its plans to include the 45th president, and on Monday, the Disney fan site WDWMagic.com shared leaked video of Robot Trump — complete with ill-fitting suit and long tie — delivering the presidential oath of office, and contemplating what it means to be an American (robot).
While the audio is indeed of Donald Trump's voice (since 1993, Disney has worked with sitting administrations to record the president's voice for the program), some have argued that the figure delivering the speech isn't Robot Donald Trump at all, but Robot Jon Voight.
Regardless of whose robot it is, congratulations to them on delivering a remarkably successful presidential address.