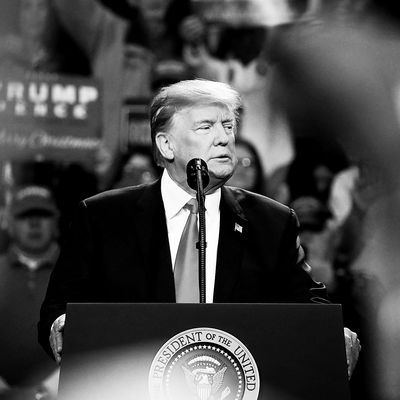 Donald Trump.
Photo: Joe Raedle/Getty Images
As the #MeToo movement continues to gain traction and fell powerful men across the country, the over-20 allegations of sexual misconduct against President Trump have resurfaced. Last week, former Fox News anchor Juliet Huddy claimed the president tried to kiss her in an elevator in Trump Tower in 2005, and on Monday morning, three women who have accused Trump of sexual misconduct appeared on Megyn Kelly Today to share their stories.
Samantha Holvey, a former Miss USA contestant, told Megyn Kelly how Trump would come "inspect" pageant contestants while they were changing, before they went on stage. When asked what it was like to watch Trump's inauguration, she answered: "That was a rough day, a very somber day for me. […] It was just a tough day because it was like the entire country said 'Meh, we don't care that he's like this."
Rachel Crooks said she was 22 when Trump kissed her on the mouth outside her office in Trump Tower, and that she didn't tell anyone at her company for fear she would lose her job. Jessica Leeds said that 30 years ago, during a flight back to New York, Trump grabbed her breasts and tried to put his hand up her skirt.
This is not the first time these women have told their stories, and the Trump administration has repeatedly denied their claims. In fact, during the broadcast on Monday morning, the White House issued a statement saying: "These false claims, totally disputed in most cases by eyewitness accounts, were addressed at length during the campaign, and the American people voiced the judgement by delivering a decisive victory."
Now, however, tides seem to be slowly shifting against Trump, and even members of his own administration and party are saying his accusers should be heard. On Sunday, when asked about the three women's upcoming appearance, Trump-appointed U.N. Ambassador Nikki Haley told CBS's Face the Nation: "Women who accuse anyone should be heard. … I know that he was elected, but women should always feel comfortable coming forward. And we should all be willing to listen to them."
That same day, Republican Tim Scott of South Carolina told NBC's Chuck Todd that while the claims have been heard before and it is impossible to relitigate the election: "Should people who have been victimized have an opportunity to have their day in court or their day presenting their information? I have no problem with that issue."
Earlier this month, the L.A. Times also reported that Trump could be called to testify in a lawsuit brought by former Apprentice contestant Summer Zervos, who claims Trump groped her in 2007.
It seems President Trump could finally face his own reckoning on sexual harassment. But he has weathered accusations of sexual misconduct against him before, and even openly bragging about grabbing women "by the pussy" didn't stop him from being elected president. Only time will tell if this moment's any different.
Watch the women's interviews on Megyn Kelly Today below.