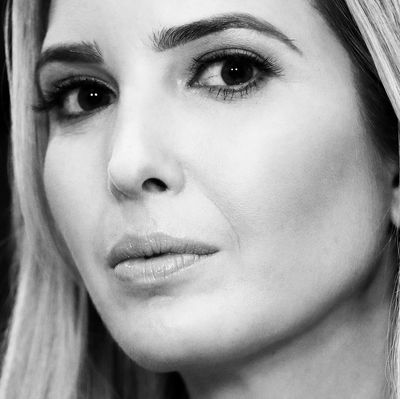 Ivanka Trump.
Photo: Win McNamee/Getty Images
Ivanka Trump has stepped away from her namesake label, but that doesn't mean she's stopped wearing her brand's pumps, shoes, dresses, bags, and jewelry.
In fact, a Wall Street Journal investigation tracked 100 of her outfits and found that she wore her own brand to official appearances 68 percent of the time.
Trump, like her father, put her company in a family-run trust, but she still gets some financial information about the brand and a multimillion-dollar salary, according to the Journal.
Still, the product placement may not be having much of an effect. Despite all the photo opportunities, sales at the company are reportedly down, and she was dropped from Nordstrom and Neiman Marcus earlier this year.
Ethically, of course, she's in uncharted territory.
"Ivanka Trump is testing the boundaries on federal rules that bar government employees from using their position to promote brands that personally enrich them," Guian McKee, an associate professor in presidential studies at the University of Virginia's Miller Center told the Journal.
But in a statement to the Journal, Trump insisted that she was not trying to profit from her time in Washington.
"If what motivated me was to grow my businesses and make money, I would have stayed in New York and done just that."