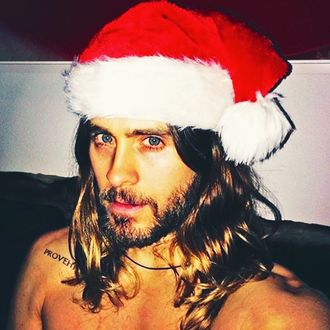 Jared Leto.
Photo: Instagram/Jared Leto
Yesterday, Instagram was visited by the ghost of Jared Leto's hair past. The singer and secret tech investor (he's invested in Slack and Airbnb) posted a festive photo of himself in a fuzzy Santa hat that did nothing to dull the glow of his perfect ombré hair. Unfortunately, although Leto didn't caption it that way, this photo is most likely a #TBT photo, as his current hair looks more lumbersexual.
But let us remember 2014: a time before prosthetic man buns, when Leto's hair was so shiny and lustrous that we spent a year learning all about his favorite products and his out-of-the-shower air routine. It was a brief period when he had a full, mystical mane of perfectly placed highlights, and hairspiration so strong that it coined the term hommebré. Auld lang syne.