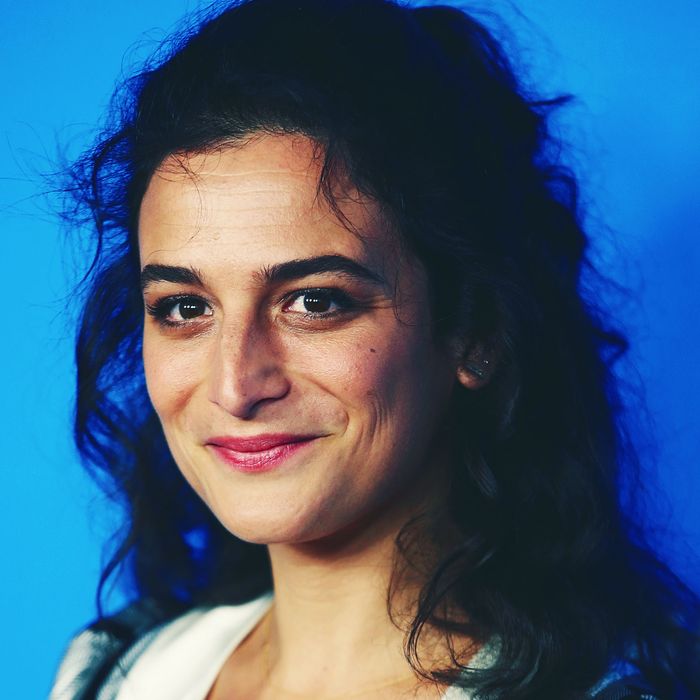 Jenny Slate.
Photo: Phillip Faraone/Patrick McMullan
In a year that was verifiably bad, there was at least one reliable bright spot: Jenny Slate. The actress and comedian had, of course, been on our radars for quite some time — but 2017 was the year we went truly, fully fangirl on her. From her heart-wrenching and vulnerable interviews to her excellent personal style, here's a look back at the year in Jenny Slate.
2017 was a busy year for Slate's career.
The actress's IMDb page lists a slew of animated and TV appearances in 2017, but we took notice when she starred in the film Landline, a multigenerational cheating dramedy. The movie marked Slate's second collaboration with her Obvious Child co-writer and director Gillian Robespierre, which we thought was nice. Bonus: This year we also got to see the film where she and Chris Evans got together.
She was open about her breakup with Chris Evans in a powerful interview.
Slate pushed through her February split with Evans by being honest in a refreshingly candid interview with Vulture, letting readers in on what happened during her divorce, how she first fell for Evans, and the devastation and sense of loss that comes with the end of a big love. "I'd love to be his friend one day, but we threw down pretty hard," she said about Evans. "No regrets, though. Ever."
She demonstrated how to be a friendly ex.
Shortly after their split, Evans and Slate had to promote their film, Gifted. That, of course, meant they were repeatedly asked about each other in interviews and even had to show up on the red carpet together. But Evans only had nice, beautiful things to say about Slate — he even called her his "favorite human" — and the pair sweetly embraced in front of the cameras, instead of ducking and hiding like we do when we spot our exes at the bodega.
She went to the movies with Jon Hamm.
People around the world gasped in jealousy when pictures of Slate at the movies with Jon Hamm emerged. On the one hand, we'd love to go anywhere with the handsome (and sad) Hamm. But on the other, we'd also love to go anywhere with the awesome Slate.
And she had amazing style the entire time.
Whether she's sporting her so-called "horny shirt" or a great (and happy) Madewell sweater, Slate's style is always on point. This year alone we've seen her in an amazing red power suit on Jimmy Kimmel, looking chic on red carpets, and, of course, wearing the ultimate laid-back summer-date outfit (on her outing with Hamm).
This year Slate also gave us the best/worst date story ever.
Slate went on a blind date in 2017 that may go down as one of the worst in history. As she described on the podcast Talk Easy With Sam Fragoso, Slate was set up on a date with a guy who showed up dressed like a knight — complete with chain mail and a crest. "I have a whole date with him. His chain mail is like getting caught on stuff," she explained. "I'm mortified, and also just mad. He's trying my pasta with the chain mail clinking across and stuff, it's insane." She later helped him "disrobe" in the parking lot.
She revealed that a psychic helped her get her big break.
In a story that can be marked as "something that would only happen to Jenny Slate," the actress said in an August interview with Jimmy Kimmel that in 2008 a psychic told her that doing a one-woman show would help her get "a big stage." Lo and behold, she ended up performing a show as an eccentric millionaire at her own funeral, smoked a bunch of weed, and did a Gloria Estefan impression, and a Saturday Night Live scout was in the audience.
Then, Slate subtly let us know that she was back together with Evans through chill social-media posts.
In a very chill way, Slate slowly let us know that she was back together with Evans by posting nonchalantly about her love life on social media. First, after they were spotted together on dinner dates, the pair started openly flirting on Twitter. Then, she tweeted about having a boyfriend who celebrates how much she loves turtlenecks. And eventually, their relationship was basically fully confirmed once Evans's equally superhero-looking brother Scott posted a pic with her on Christmas. Cute!!!
And lastly, in November she announced that she's writing a book of feminist fables.
Enough said.