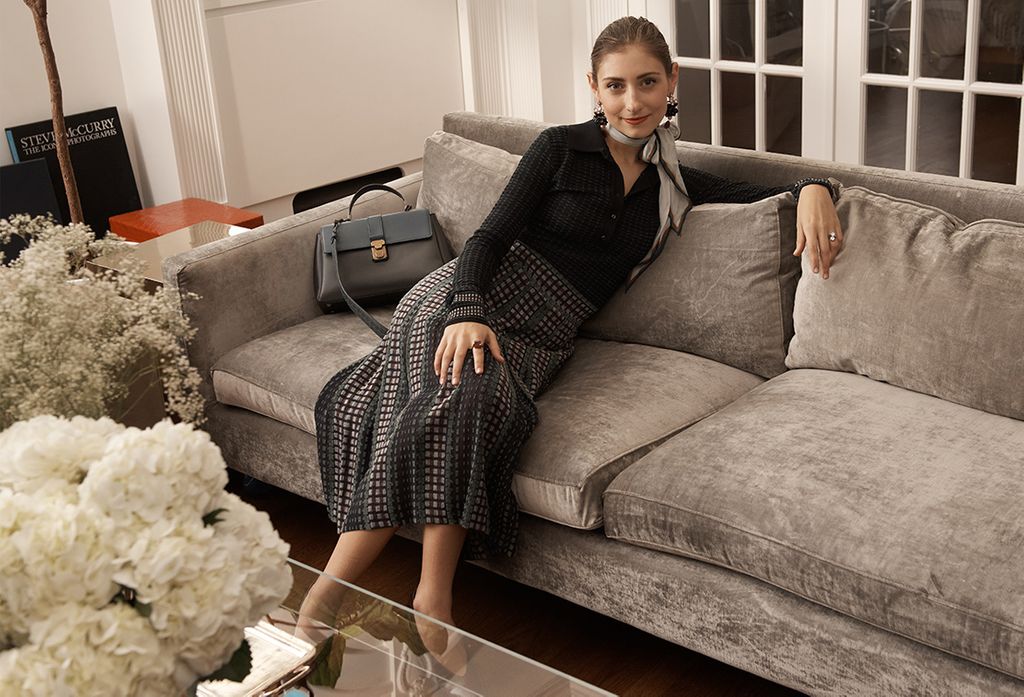 The scores of endless "what's in her bag" articles are testament to our fascination with the relationship between a woman and her handbag. Serving as everything from a style asset, to an indispensable organizational tool, to a vital security object, the perfect day-to-day bag is the average woman's Holy Grail. This dream handbag elevates any look, but also keeps an assortment of essential (and emergency) items at arm's reach, suggesting that its purpose is largely about preparedness.
Jenny Walton, freelance fashion illustrator and fashion director for The Sartorialist, is a bag connoisseur who understands how the accessory speaks to the wearer's lifestyle, taste, and thinking. Waxing over the subject with us at her Soho apartment with fiancé Scott Schuman, Walton shared the insights below on her obsession with "really good" handbags – including her new favorite, Bottega Veneta's Piazza.
You're frequently photographed wearing a different stunning handbag. Do you remember the first one you fell in love with?
For my sixteenth birthday, I told my mother I wanted to go to New York to visit all the stores I was reading about in magazines. I wanted to see the items from my favorite fashion editorials in person. I saw this one bag at a certain designer store, and my sixteen-year-old mind thought it was so chic! The retail assistant told me it was $5,000. I turned to my mom and said, 'One day I'll be able to afford that bag.' I've been working towards that point ever since, and I'm just starting to get there.
Why do you think so many women are so attached to their bags, or, why is the bag such an obsessed-over essential?
The purse is the ultimate accessory because you can have so much fun with the design of it and it won't affect the functionality [unlike shoes]. Also, a lot of women save up for the bag of their dreams or maybe someone they love gives them a purse to mark a special occasion. It really can mean something to a woman (or a man), to be able to own that purse that they've saved and worked hard for. Plus, the purse is really the house for your most valuable things. It's the last item you put on but it's the most important. My bags, whether vintage or designer, tell a story.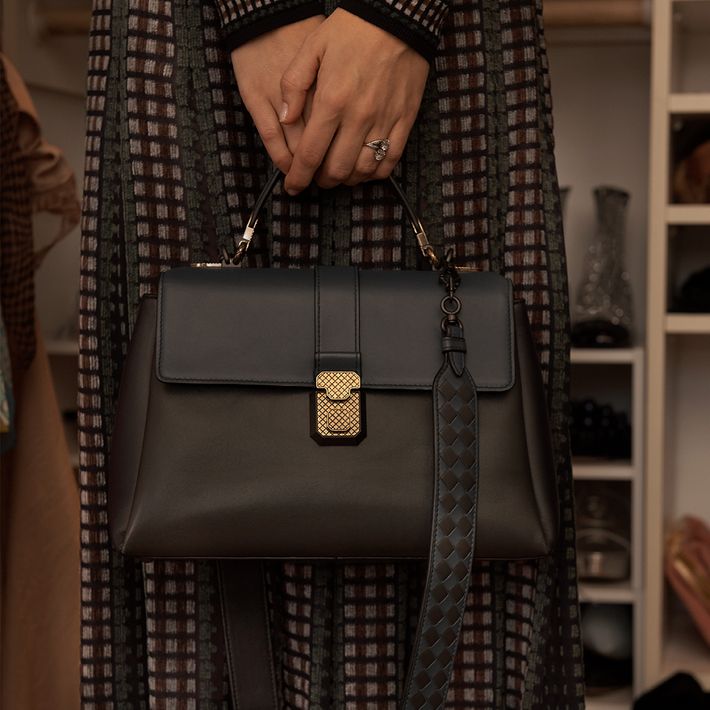 Bags always seem to look good on display but they don't always translate in person. How do you know if a bag is made for you?
First, you have to figure out your needs. You can tell a lot about a woman from her bag. If she has a small clutch, maybe she doesn't need that much or she's really organized. If she has a large tote it might translate to having more things, a busy life, or maybe she just doesn't have an assistant! Right now, I need a bag that can fit treats or a squeaky toy for our puppy, Charlie. The size of the Piazza is so good because you can cut down enough to bring it on the airplane, but you can also just grab it, throw in a few things, and it wouldn't feel like you're carrying a big satchel.
Second, find something that is true to you. You have to figure out your style references, whether it's a decade or a movie star like Audrey Hepburn. Once you have that, you can dissect that thing and figure out whether it works with the other focused items in your closet. Lastly, you have to check if it works on your body.
How would you describe the perfect bag now?
I look for bags that I can wear often, for a really long time, and never get tired of because of some obnoxious print. Something like the mini Piazza bag, in the thyme color-way, is very me. I love shades of blue and green. It's subtle and it's not until you get closer that you realize that there are all of these different tones of color.
Where do you store your bag collection?
I actually turned my coat closet into an accessories closet and put all of my clothes into dresser drawers. It was my husband's idea. I keep the closet open all the time with the bags stored on the center shelf.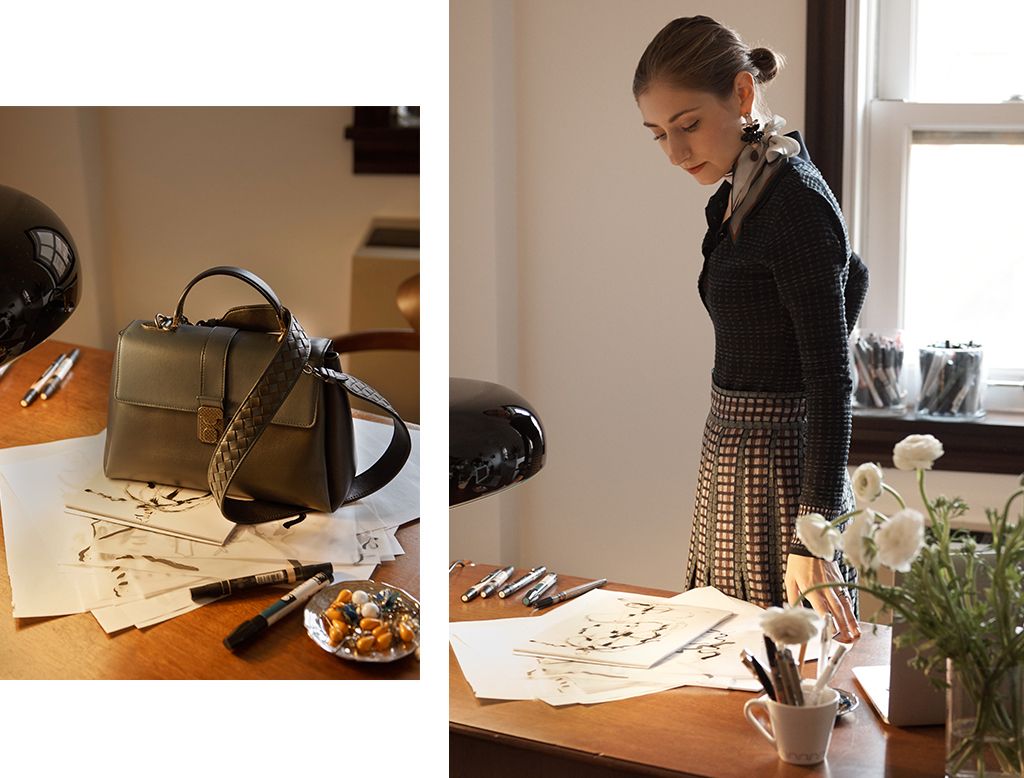 What bags are you considering this season?
As a student, I would fall in love with bags I saw on the runway or in stores I couldn't afford. I still keep a lookout for those bags! Every few months I go online to and see if someone is listing an old one. It hasn't worked yet, but my fingers are still crossed. I'm also keeping my eye on bags with unique silhouettes and design details. The weave design on the strap of my Piazza bag really resonates with me. In high school, I covered the walls of my room with photos I had ripped out of magazines. There was a specific Bottega Veneta campaign around 2007 that was so beautiful and so gentle. The clutch that the girl was holding had that signature weave design and it's that same as on my Piazza bag strap. That makes it such a special bag to me.
Production Credits:
Styling by Calvy Click
Hair and Makeup by Sae-Ryun Song
This is paid content produced for an advertiser by New York Brand Studio. The editorial staff of The Cut did not play a role in its creation.