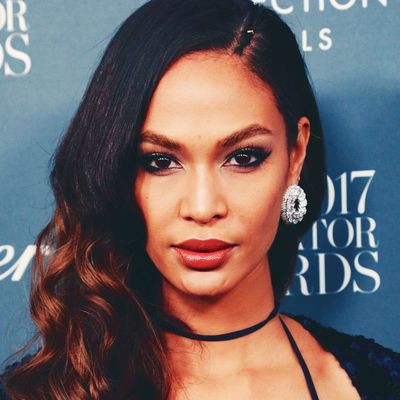 Photo: Taylor Hill/WireImage
The steamy, fitness-themed LOVE Advent calendar raises a lot of questions: Who decided that spaghetti is sexy? Why publish an Advent calendar that doesn't stop at Christmas? And, most persistently, how do all of these models pretending to work out not sweat off their makeup? The most recent installment of the fashion magazine's calendar features model Joan Smalls in fishnets, an honest-to-god pink unicorn sweater, and bright-blue eye shadow doing a Flashdance-meets-Madonna dance.
Smalls opens the video by saying, "I'm here to move," but her periwinkle eye shadow stays intact the entire time — more of a feat than keeping a smoky eye in place (à la Gigi Hadid, Miss Love Advent Day 11). LOVE, please tell us what magical primer you are using for your exercise-themed Advent calendar.