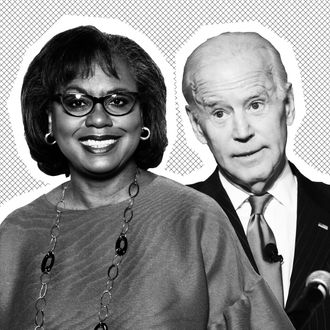 Anita Hill and Joe Biden.
Photo: Getty Images
In recent years, former vice-president Joe Biden has emerged as a staunch advocate for sexual-assault survivors. But many feel as if he failed Anita Hill when he presided over the Clarence Thomas hearings in 1991. Hill, who testified that Thomas had repeatedly sexually harassed her while she was his employee, was famously derided as "a little bit nutty and a little bit slutty" — while Thomas went on to be sworn into the Supreme Court. Now, over 25 years later, Biden says that he owes Hill an apology.
In an interview with Teen Vogue, Biden said that he believed Hill at the time. "And my one regret is that I wasn't able to tone down the attacks on her by some of my Republican friends. I mean, they really went after her," he said. "As much as I tried to intervene, I did not have the power to gavel them out of order. I tried to be like a judge and only allow a question that would be relevant to ask."
"I wish I had been able to do more for Anita Hill," he continued. "I owe her an apology."
Earlier this year, at Glamour's Women of the Year summit, Biden was asked about how he treated Hill at the time and apologized, saying he was "so sorry if she believes that" the hearings were unfair. Hill and her 1991 congressional defenders felt it was insufficient. In an interview with the Washington Post shortly afterward, she responded to his comments, saying, "I still don't think it takes ownership of his role in what happened." And, arguably, the same could be said about his most recent attempt.