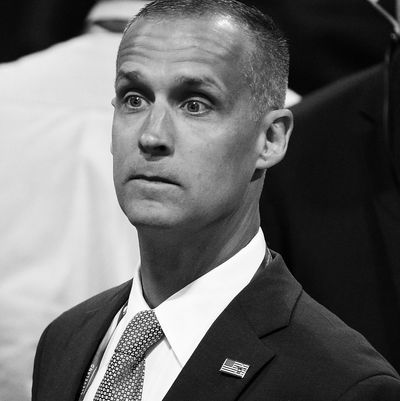 Corey Lewandowski.
Photo: Jeff Swensen/Getty Images
Donald Trump–supporting singer Joy Villa has filed an assault complaint against the president's former campaign manager, Corey Lewandowski, Politico reports. The news comes days after Villa publicly accused Lewandowski of slapping her butt twice at an invite-only holiday party last month.
Villa, who garnered notoriety after wearing a "Make America Great Again" dress to the Grammy Awards, filed a sexual-assault report with the Metropolitan Police Department about the incident. The 31-year-old singer, who is also exploring a congressional bid in Florida, told Politico that she provided police with the names of two eye witnesses when she filed the report on Christmas Eve.
She also explained that she originally sought to file a sexual-harassment claim against Lewandowski, but was told by a detective that she was describing a misdemeanor crime that should be filed with the sex-assault unit. Per Politico:
"The detective I talked to said that sexual harassment is what happens in the workforce," Villa said in an interview on Tuesday. "The detective told me, 'what you describe happened to you is sexual assault.'"
Villa first came forward about the alleged assault in an interview with Politico last week. She said she had been pushed into posing for a photo with Lewandowski, which is when he allegedly touched her without her consent. "I'm wearing this silver suit and stretchy pants, and after the photo, he smacks my ass really hard," Villa told Politico. "It was completely demeaning and shocking."