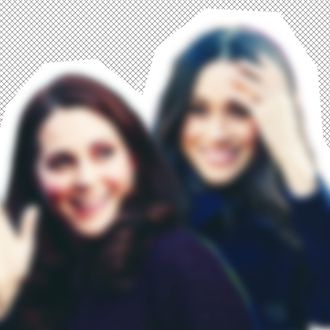 Mystery celebs.
Photo: Getty Images
In a year that was bad for lots of reasons, I found one consistent source of joy: blind items. These salacious nuggets of only-possibly-true, anonymized celebrity gossip kept me going when everything else on the internet felt too unpleasant to read. What is better than spending a few minutes guessing which A-list actress is cheating on her husband with her director? Or which B+-list singer is paying an Instagram model to pretend to be his girlfriend? I guess having the same amount of money as the cheating A-list actress would be better, but that's about it.
Blind items, for the uninitiated, are short pieces of gossip in which the identities of the characters involved are not revealed. As Lainey Lui of Lainey Gossip explained to Vanity Fair last year, gossip writers use blind items to protect their sources and themselves from potentially litigious celebrities. The blinds, as a result, are wild and gossipy and fun to read.
In the event that you have yet to read a blind item this year or ever in your life, I have compiled some of the best unsolved items from this year. Each gossip writer presents blind items differently: Some of them, like Crazy Days and Nights' anonymous founder Enty, "reveal" the items after a certain period of time, while others, like Lui, only drop hints about the identities of the celebrities in their blinds. For the purpose of this post, I won't provide any of the "reveals," because they aren't necessarily true. (Celebrity publicists never confirm or deny blind items about their clients, for fear of legitimizing the medium.) But I will provide my own hints and guesses about which celebrities are featured in the blinds, because that is the fun part. Feel free to comment or send me yours, too.
To be clear: These could all be completely made up. But blind-item writers do have a history of revealing scandalous information about celebrities that is later confirmed by the mainstream press. Especially this year. (See: Harvey Weinstein, Matt Lauer, Ben Affleck, Kevin Spacey …)
Enjoy!
The One About an A-List Pregnancy
"The eggs are hers, but there is talk that the sperm donor is someone else other than this A lister for this A list couple's impending parenthood."
— Crazy Days and Nights, February 2017
"Eggs," plural, implies multiple babies. Which A-listers had twins this year? Beyoncé and Jay-Z, Amal and George Clooney … who fits the bill?
The One About a Billionaire Sex Party
"[There's a] billionaire who throws the best sex parties in Hollywood — 'best' because of the VIP guest list that includes his girlfriend and her good friends, most of them very, very famous. Some of them participate, others are just there to observe. But these parties have become as big of a draw as the best Oscar parties, only even more exclusive."
— Lainey Gossip, July 2017
There are only so many billionaires who dated very, very famous women this year. Remember this couple?
The One About a Very Smart Model
"This A/A- list very smart model lost her cool when a pap kept taunting her about her Oscar dress and how the Goopster had worn it five years earlier."
— Crazy Days and Nights, February 2017
Well, there's only one Goopster. Who is the "very smart model"? Perhaps the one who likes to code?
The One About A-List Actor Bros
"After getting hammered in the press, these two A+ list mostly movie actors came up with a statement they have been sharing when asked about Harvey. At least one of them better hope some video of him at a party with Harvey doesn't come out or his story will go to crap. I think that is why his best friend who has swung and missed at several statements has been so on edge as of late."
— Crazy Days and Nights, October 2017
Two A-list actor friends who made bumbling statements in the wake of the Harvey Weinstein scandal? This one is easy.
The One About Shopping-Day Drama
"Here's a scenario to consider: Let's say you're dating a guy and you're super into each other, and you've been staying with him, and he's really serious about you, the most serious he's been about anyone. He lives in the same complex with someone he's very close to. And the person he's close to has a partner too. You and she don't know each other well. But since you've been staying there, you run into each other one day. And you tell her you're going shopping and where. She says she's going shopping too and leaves in the car. You head out on foot. Turns out, she went shopping exactly where you went shopping. And she knew that's where you were going. But she didn't offer you a ride.
Is that weird? Maybe it's not that weird. But considering who they are, it IS super gossipy."
— Lainey Gossip, February 2017
Which very famous couples (especially now) live "in the same complex"?
The One From an Actual Celebrity
Every once in a while, celebrities will provide their own blind items to the press. On the Graham Norton Show last weekend, Jessica Chastain talked about a "well-known actor" who told her to stop talking about Harvey Weinstein so much.
"I was tweeting a lot at the time and actually got an email from a well-known actor that said, 'Calm down,'" Chastain said.
Who do you think sent the email? A well-known actor who starred in a bunch of Weinstein films, perhaps?